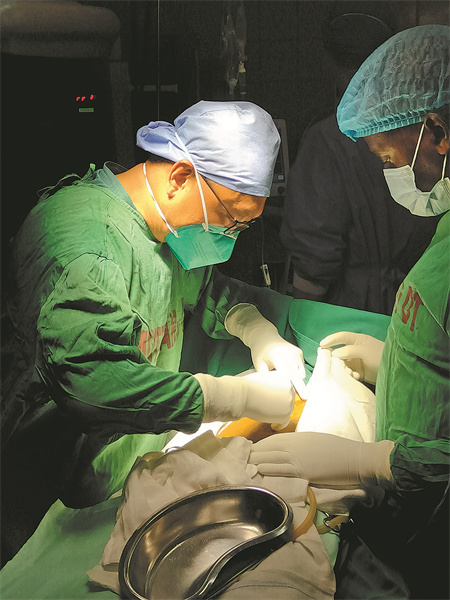 It gets dark at around five during the winter in Lesotho, so Sheng had to finish with outpatients by three. Any later, and it would become too dangerous for many to make the return journey home, often by horse or donkey, along the country's twisting mountain roads.
Thursdays aren't much quieter, as this is surgery day, Sheng estimates that the number of general surgeries has at least doubled since he began working at the hospital.
The increased workload has drawn complaints from some of the nurses. "My interns told me the other day that staff in the operating rooms call my surgery day 'Black Thursday'," he said with a laugh.
But he has maintained his pace, performing at least eight surgeries almost each Thursday, trying his best to treat the critically ill who otherwise would have to be transferred to hospitals in the capital, Maseru, which is two hours drive away.
Sheng is also on-call for emergency surgeries at weekend and has treated a variety of cases, including road injuries, burns, stomach and breast tumors and hernias. He gets a strong sense of satisfaction from recognition of his work.
One Thursday in August, he took a break from surgery after he was called to the outpatient department to help a boy with a splinter in his foot.
The boy, who was in great pain at first, jumped for joy when the surgeon was finally able to remove the splinter from a deep wound.
Shopping in a hardware store a few days later, he ran into the boy's mother, who was the store's cashier.
"She looked at me and said, 'You are the doctor.'"
It took him a while to remember who the woman was.
"Then she introduced me to her co-workers in the store in a loud and happy voice. Right then, I felt that all my efforts were worth it," Sheng said.
As part of the medical assistance China provides to Africa, Hubei province has been dispatching medical teams to Lesotho since 1997.
Members of Sheng's team were selected from the internal medicine, gynecology and obstetrics, general surgery, orthopedics, radiology, acupuncture and anesthesiology departments at tertiary hospitals in Wuhan, according to the provincial health commission.