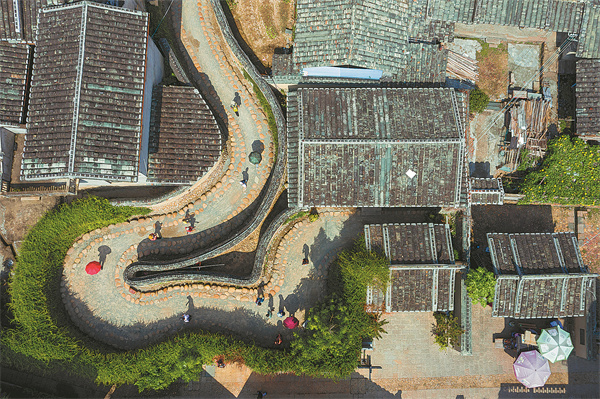 Zhang told China Daily that Oustudio created a homestay called Songkouqi, which means "let tourists relax" in English, in an old three-story residence.
"In order to restore the original appearance of the ancient house, our team proposed using clay to coat the exterior cement walls and decorating the facade with bamboo and wooden additions," Zhang said.
Since its inception, Songkouqi has played host to a number of famous magazine editors-in-chief and movie stars and with business booming, it once made as much as 8,000 yuan ($1,145) a day.
"The homestay was an exemplary project that allowed the public to understand the possibilities of their own houses," Zhang said.
Some 10 new homestays have been created in the town since then, and over a third are managed by villagers, who have been able to emerge from poverty as a result of thriving tourism.
In Songkou, the team also repaired a crane-shaped road, which was built at the end of the Song Dynasty (960-1279) and is a popular scenic spot as a result of its unique shape.
At the time, numerous sections of the road had been damaged, with some parts encroached upon by surrounding buildings.
"We endeavored to fix the road without destroying its primitive style," she said.
The team decided to rebuild one wall using rammed earth instead of bricks and cement. To create the best effect, a number of craftsmen who had already been retired for many years worked with Oustudio testing out different types and proportions of soil.
"Only through working together, exchange and interaction with officials, villagers, designers and other stakeholders, can the planning and rebuilding of rural areas achieve a sound result. At first, villagers might not understand, and could even be suspicious of what we were doing, but thanks to government policy and coordination, they ended up supporting our projects and even seeking our help privately," Zhang said.