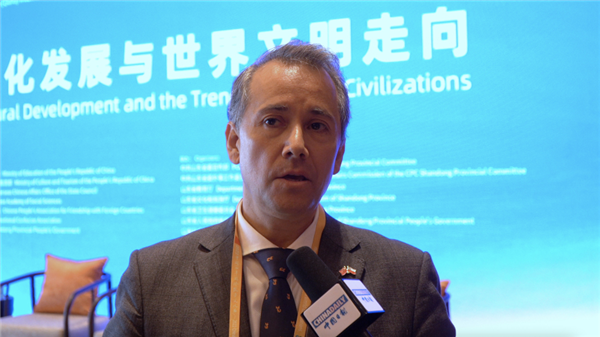 "The forum is a very important element to promote, in a formal way, the encounter of different countries and different civilizations", said Rodrigo Toledo, counsellor of the Embassy of Chile in China during 2022 China (Qufu) International Confucius Cultural Festival and the eighth Nishan Forum on World Civilizations, on Sept 27.
This year's forum, under the theme of "Diversity of Human Civilizations and Common Values of Mankind", focused on global common topics such as the protection of human cultural heritage, innovation, and the development of culture and exchanges of human civilization.
"It is important to understand in the world. We are human beings living and sharing the same planet, but we have differences and we have diversity. We need to learn to live with these diversities, to respect each other, and to put ourselves in the shoes of the other person," Toledo said, "In this regard, the forum could play a very key role."
"China is a big country and also a big market for many countries. In the case of Chile, China is a main trade partner, and we can sell cherries, wine or other products, but it is not enough. We need to understand each other, our behaviors, and our culture," Toledo said.
"Chile is on the other side of the globe from China, but even though they are so far apart the two sides have 52 years of diplomatic relations," Toledo said. He hoped that the forum can continue their time together, and increase importance and projection to the world.