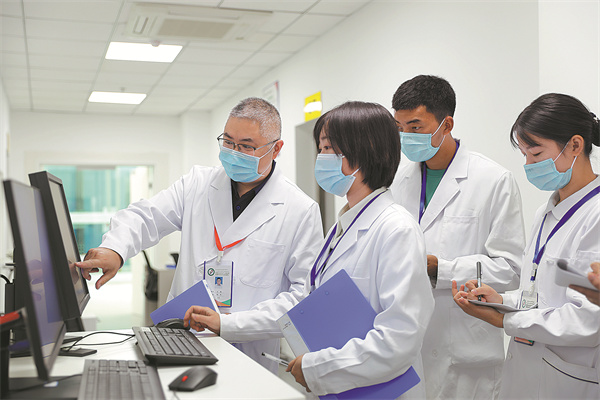 From above, the regional hospital for women and children in the Tibet autonomous region looks like the flowing hada, a white ethnic scarf that represents purity, honesty and good tidings. These are qualities this first-of-its-kind institution aims to achieve with active cooperation from experienced medical staff from outside.
Wang Qiu has had many unforgettable moments since he left home and came to Lhasa to join the hospital about a year ago. The doctor in his early 40s was caught off guard by altitude sickness as soon as he landed in the regional capital with his co-workers in late October.
"Some of us could barely sleep for the first few days owing to breathing difficulties," recalls Wang, who has 17 years of experience in medicine for children and has worked as deputy director of the rehabilitation department of the West China Second University Hospital, Sichuan University, in Chengdu, the capital of Southwest China's Sichuan province.
Many of them had to wear a nasal catheter in order to breathe without distress, but the tube came off every time they turned in their sleep. "So, lack of oxygen jolted you out of slumber. You had to fumble around in the dark for the catheter, find it somewhere under the sheet or on the floor, plug it back in and then try to sleep again," he says.
In August last year, the Tibet autonomous region and the Chengdu hospital inked an agreement on establishing a state-of-the-art healthcare hub for women and children in Lhasa. Wang, who often treated Tibetan children in Chengdu, was made the director of the new hospital.
"I have always been keen on child rehabilitation and development in Tibet," the doctor says. "In most cases I encountered while at Chengdu, critically ill children from Tibet missed what we medically refer to as the 'best treatment period', when medicines are likely to be more effective, because they had to travel to nearby provinces for proper medical attention. The delay usually led to poor prognosis."
Wang believes child medicine development in Tibet still has a long way to go in terms of disease screening, early diagnosis and medical services, but the regional hospital is definitely a step in the right direction. "Our first task, therefore, has been to promote pediatric specialties. We plan to gradually turn the hospital into an integrated healthcare hub for both women and children," he says.