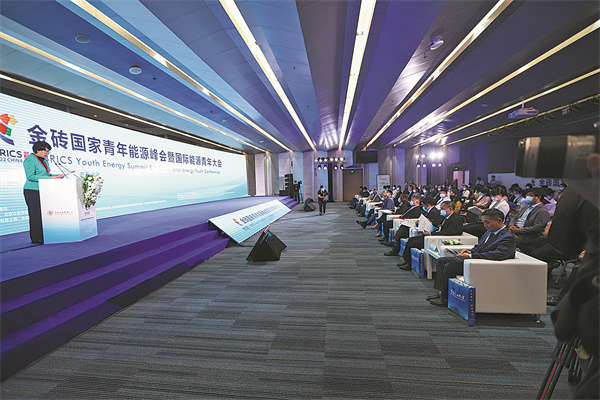 Gathering young energy sector practitioners and students majoring in energy-related subjects, the BRICS Youth Energy Summit and International Energy Youth Conference kicked off on Sunday to address the future of sustainable development.
Young people from the BRICS countries are the new driving force accelerating the global transition to a green, low-carbon energy structure, noted Wang Sunyu, deputy executive director and general secretary of the International Centre for Engineering Education under the auspices of UNESCO, at the summit, which took place at the Future Science City in Changping district, Beijing.
Wu Xiaolin, president of China University of Petroleum in Beijing — a co-host of the event — spoke at the opening ceremony, saying that China is striving to achieve its carbon peak and neutrality goals. It is against such a backdrop that the China University of Petroleum in Beijing attaches much more importance to the development of interdisciplinary studies and the promotion of openness and talent integration at work.
"The university has been playing an active role in generating ideas to tackle the double carbon goals, cultivating talent in relevant fields and making technological breakthroughs that will help to attain them," Wu said.
The university has been expanding the channels through which it seeks to gather high-level talent, as well as international exchanges in the field of energy-related technologies. The latter has been achieved by leveraging platforms such as the Worldwide Energy University Network, a collaboration between more than 30 universities with a shared strategic interest and expertise in energy-related fields.
Great efforts have been made by the university to disseminate information and present case studies pertaining to China's efforts to lower carbon output and promote sustainable development on the international stage.
"I hope the event can build a bridge of friendship between young practitioners in the energy sector from all around the globe, enabling them to gather and help shape the future of sustainable energy," she added.
The event has also provided an opportunity for domestic and foreign students majoring in energy-related studies to communicate with representatives from some of China's leading energy enterprises, including China National Petroleum Corp and China National Offshore Oil Corp. They have posed questions to company representatives and inquired about areas in which they are interested, such as the possibility of securing a job at one of those enterprises after graduation and the current status of the transition from traditional methods of energy production to greener and more sustainable means.