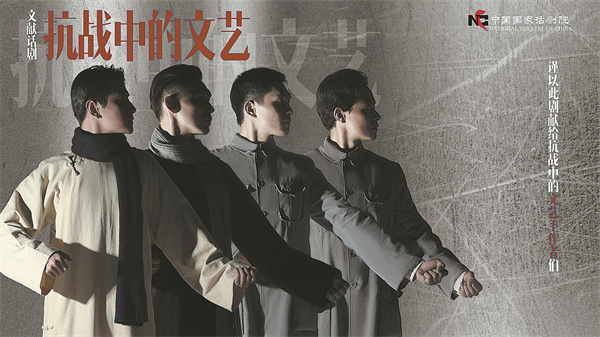 To commemorate the 80th anniversary of Chairman Mao Zedong's talk at the Yan'an Forum on Literature and Art in May 1942, the National Theatre of China promoted its new documentary drama, Literature and Art in the War of Resistance, during a news conference held in Beijing recently.
The drama depicts the struggles of famous writers and artists, including Lu Xun, Guo Moruo, Cao Yu, Ding Ling and Qin Yi, during the War of Resistance Against Japanese Aggression (1931-45), as these intellectuals tried to find a direction for the development of China's literature and art.
According to Luo Bing, one of the scriptwriters, they started to collect and organize historical literature and other materials related to the theme since July last year, including the works, audio recordings and speeches of the masters.
A particular challenge was to find the accurate times and places of events the masters were involved in.
"Since the war was a time when people drifted from place to place and endured many hardships, their memory wasn't often accurate," says Luo.
"When recalling the same event, different people's memories of times and places sometimes do not match. For precision, we have spent a long time comparing and checking their records, trying to figure out the exact information."
Tian Qinxin, head of the National Theatre of China, who is also director of the play, mentions that it is a combination of dramatic performance and video art, in which stage art, sound effects and light all play an important role.
Wang Danrong, who designs sound effects for the play, says he uses a large amount of old audio recordings in the drama, so that the audience can hear the real sounds of the past.
"For example, I used the oldest version of the ringing of the bell on the Bund in Shanghai that I could find, to try and take the audience back to the 1930s when our country was at war," says Wang.
In the drama, actor Tian Yu plays famous writer Shen Dehong, also known as Shen Yanbing, better known by his pen name Mao Dun.
He learned about Shen's life, his works and especially his experience during the war in preparation for the role.
"Shen loved his country so much," says Tian Yu.
"Even at the most dangerous time, he tried to give full play to literature and art.
"If we had not prepared this drama, we would not have known how important literature and art can be when a country is experiencing a hard time."
Tian Qinxin, the play's director, adds: "During the rehearsal process, we have all been deeply touched by the spirits of the masters and their efforts to save the country."
The drama will premiere on Oct 1 at the National Centre for the Performing Arts and will run until Oct 7.