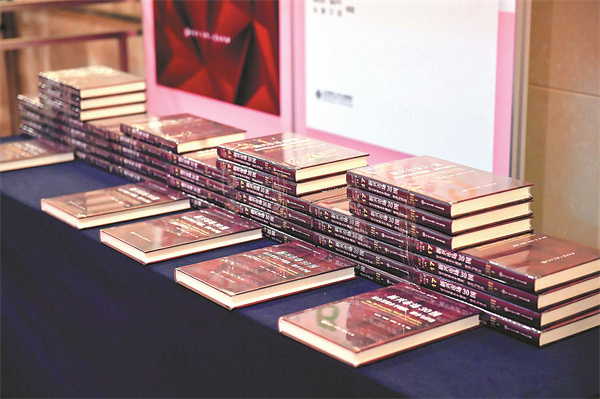 The Belt and Road School at Beijing Normal University recently released a series of books on the development of cooperation under the Belt and Road Initiative.
The books, the latest research results of the school's faculty, hold that future construction of the BRI will embrace four key characteristics, namely, integrated development, carbon reduction, digitalization and poverty alleviation.
Ma Jun, president of Beijing Normal University, says the Belt and Road School was established by the university for talent cultivation, academic research and policy studies, all revolving around the development of the BRI.
"Our university is willing to strengthen collaboration with various sectors from around the world to make contribution to the high-quality development of Belt and Road cooperation, the great rejuvenation of the Chinese nation and the building of a community of shared future for human beings," he says.
The series of 13 new books aims to comprehensively interpret the systematic ideas proposed by President Xi Jinping on the high-quality BRI cooperation, conclude lessons drawn from nearly a decade of the implementation of the initiative and look into the future prospects.
Hu Biliang, executive dean of the school, says the BRI has been promoting deeper regional economic integration. For instance, the transport corridors connecting China with other countries involved will bring about safer and more efficient connectivity, so as to enhance economic integration.
He adds that China, which boasts advanced new energy technologies, has increased its investment in countries that are part of the related projects, which will help fuel new energy industries in those countries. Additionally, green international industrial capacity cooperation and low-carbon transportation can also be promoted in the process of the BRI's construction. Similarly, China's experience in developing data centers, 5G and e-commerce will also benefit the countries involved.
"The strong appeal of high-quality Belt and Road cooperation lies in its ability to offer a development-oriented mode for international cooperation which generates new opportunities for countries involved to achieve mutual benefits and coordinated development," he says.
Topics in the books include infrastructure construction, trade development, financial collaboration, industrialization, investment risk prevention and global poverty reduction under the framework of the BRI.