With more than 12,000 votes from 1,421 media organizations, the 2022 Media Honors announced 15 awards to recognize the contribution of Chinese filmmakers, with the prize ceremony held in Beijing's Tongzhou district on Sept 3.
While The Battle at Lake Changjin, an epic set in the War to Resist US Aggression and Aid Korea (1950-53), took home the jury's award, the anthology blockbuster My Country, My Parents received the award for the movie that has garnered the most attention from media outlets.
A-list actress Zhang Ziyi won the best new director award with her directorial debut, Shi (Poem), one of the four stand-alone short tales of My Country, My Parents, also the first such prize throughout her glittering star path.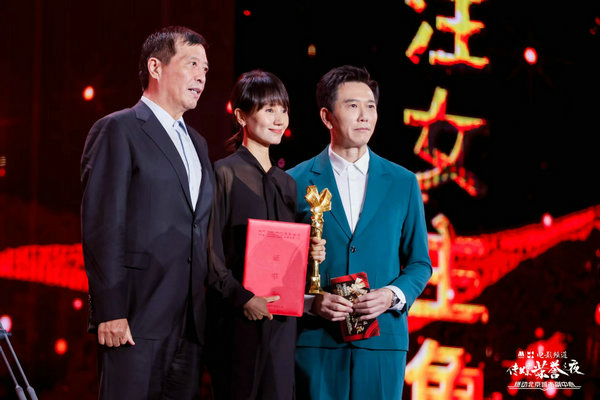 The best actress and actor awards — both marked in the acting category to receive most media attentions — respectively went to Yuan Quan for her vivid portrayal of a medical expert in the pandemic-fight film Chinese Doctors and Zhang Songwei for his role as Li Dazhao, a co-founder of the Communist Party of China, in the movie The Pioneer.
"Life is very meaningful. You will stumble upon a lot of unexpected things, making you to change your mind and take on the unprecedented challenge to conquer all the obstacles," said Zhang Ziyi.
During the 12th Beijing International Film Festival last month, Zhang Ziyi revealed that she felt very stressful when assigned by China Film Administration to take the directorial job.
Despite the huge pressure, she said she delved into the early history of Chinese scientists and engineers dedicated to the development of the first Long March rocket in the late 1960s.
The award ceremony was hosted by China Movie Channel in cooperation with the Tongzhou district government.