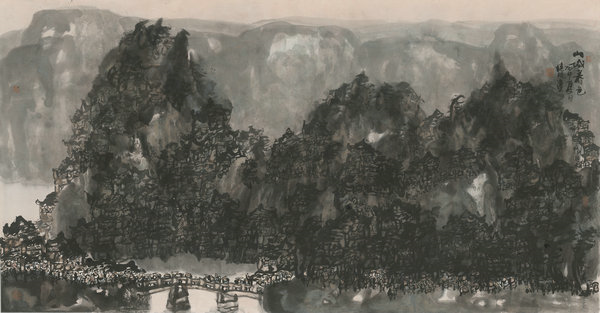 For years Ren Jianguo has endeavored in the realm of classic landscape paintings, exploring with a semi-abstract style to accentuate the expressiveness of his ink-brush works. He has traveled, observed and sketched nature, and created an output that shows nourishment of the traditional literati painting and, meanwhile, an exposure to the art world.
His brushwork is infused with a Zen spirit and spontaneity to deliver a scholarly taste that characterizes the literati painting style. By presenting an atmosphere of reminiscences of ancient artists and their worlds of art, Ren also instills his work a contemporary touch.
One of his paintings, Dusk at Mountain Village, which depicts a mountainous village he visited in Jiangxi province in 2016, sold for 3.1 million yuan ($449,000) at Yongle Auction's spring sales in July. Ren's one-man exhibition will soon open in Beijing.