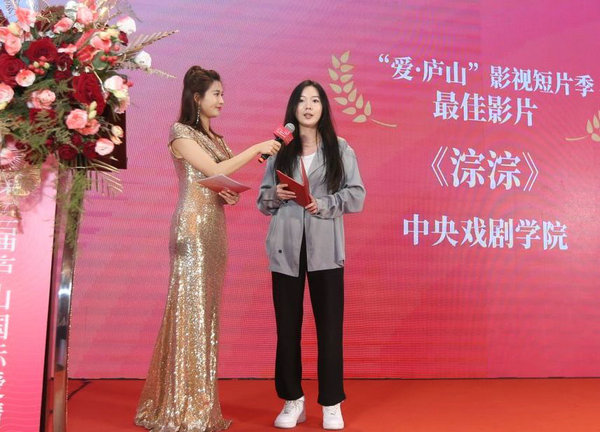 A mysterious tourist. An aspiring young guide. Their journey to find a lesser-known waterfall reveals a tear-jerking romance in Gurgling, the best film winner of the recently concluded third Lushan International Love Film Week.
Co-directed by Li Xinyu and Huo Zhenjie, two students from the Central Academy of Drama, the 14-minute short film recounts Li Congcong, a young woman who refuses her boyfriend's suggestion to seek better opportunities in Hunan province' Changsha, chooses to stay on Lushan Mountain in Jiangxi province as a guide. She stumbles upon an elderly tourist, who pays her to find a waterfall, which was important for her love with her husband years ago, thus embarking on a mind-changing journey to propel her to re-examine the meaning of life and her attitude towards love.
Shen Xiaoping, who plays the previously missing father in Nanjing University of the Arts' short tale Staring at Lushan Mountain, took home the best actor award, and the best actress went to Lu Yuxin, who plays the daughter of a movie projectionist in Shansi Taohua Shi Shengkai (Peach Blossoms Begin to Bloom in the Mountainous Temple), a work created by students from Chongqing University.
All 11 awards are presented to a total of 11 teams shortlisted from over 70 applicants at 40 colleges. They received financial support from the festival to shoot their short films, themed on Lushan Mountain where Romance on Lushan Mountain, the first Chinese film containing a kissing scene to break the taboo for on-screen intimacy, was shot more than 40 years ago.