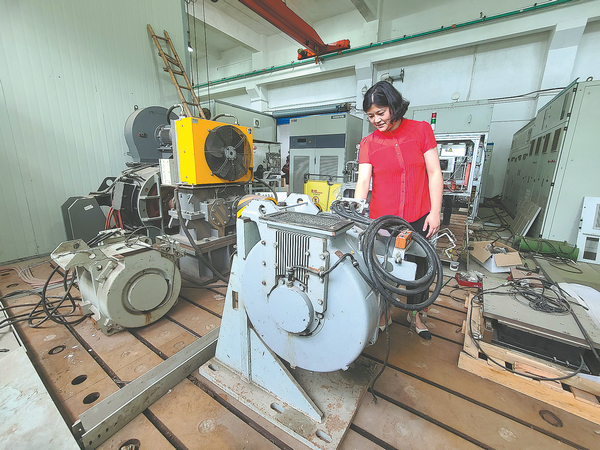 In 2009, Huang, who obtained her doctorate degree in electrical engineering from the University of Nottingham in the United Kingdom, received several invitations for employment abroad.
In the same year, on Dec 26, the Wuhan-Guangzhou high-speed railway, arguably the world's fastest train journey at a speed of 350 kilometers per hour, started operation. China was vigorously developing its high-speed rail network at that time, and the energy consumption of its trains' power systems was a key area that needed a breakthrough.
However, the main technology of high-speed rail motors was monopolized by other countries, so there was an urgent need for more efficient, homegrown motors.
Therefore, with the dream of making China's high-speed rail the most advanced in the world, Huang decided to return home.
In 2011, Huang and her research team began to undertake the task of developing a permanent magnet traction motor-a traction motor that's smaller, weighs less and has a higher energy utilization efficiency.
In 2014, China finished assembling its first domestically-developed high-speed trains driven by permanent magnet synchronous motors which passed operation testing in 2015.
Huang and her team had successfully developed the first permanent magnet traction motor for high-speed trains with a speed of 350 kilometers per hour. It marked a revolutionary change in China's transportation landscape and showed that China become one of a few countries in the world to grasp the technology of permanent magnet motor systems and applied it to high-speed rail.
"I am very excited to have been able to participate in such a very important research task," says Huang, who led the team over five years as they overcame many mechanical difficulties, as well as challenges with the electromagnetic diagram and the control algorithm. The team won second prize at the National Technology Invention Award.
"We still have a lot of work to do in the future, and our scientific research will be more in-depth, laying a foundation for our followup work," Huang says, adding that the support of the Communist Party of China, and the State, for young researchers has affirmed her determination to use science and technology to serve the country.