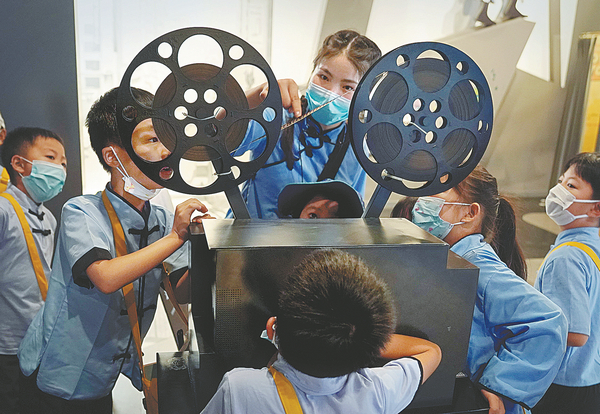 An Shanxuan and her 8-year-old son arrived at the theater 40 minutes early, and yet it was already packed with enthusiastic moviegoers.
It was the third movie An had watched at the Beijing International Film Festival that concluded on Aug 20. An, a regular attendee at Beijing movie festivals, says she bought 12 tickets this year, spending more than 700 yuan ($102).
"The festival is so popular that I had to set an alarm to buy tickets," she says.
Tickets for the weeklong film festival sold out as soon as they were made available for reservations, indicating that the event has given a fillip to China's recovering film industry, which was hard hit by the pandemic. The high-quality films at the festival attracted all types of cinema aficionados, from families to elderly citizens.
"This summer's film market has rebounded to an optimal level, both in terms of theater attendance and the availability of popular movies," says Liu Zhenfei, senior analyst with Maoyan Research Institute.
However, in the first half of this year, China's cinema box office slumped because of sporadic COVID-19 cases. This month the China Film Administration said it would issue 100 million yuan worth of movie ticket vouchers to fuel consumers' enthusiasm to go to the cinemas.
Such handouts are likely to increase the country's box office by 500 million yuan to 1 billion yuan, Zheshang Securities says in a report.
The film industry is not the only sector that is coming through. As the fight against the pandemic has increased people's awareness of their health and the necessity to exercise, several industry experts say innovative gyms will stand out among their competitors in the long run.
Locker Space, a fitness club in Beijing, launched online training courses when a flare-up of COVID-19 cases hampered normal operation earlier this year.
"Online courses managed to meet many people's demands for exercise during lockdowns," says Chu Zhen, manager of the club.
Industry figures show the number of monthly active users of many fitness apps has risen compared with last year.
The country's growing affluence and people's increased concern about their health amid the pandemic have fueled the sports boom, driving customers' willingness to splurge on sports.
The latest industry report shows that in China about 67.5 percent of people aged 7 and above engaged in physical exercises at least once a week this year, up 18.5 percentage points from 2014.
On top of common gym workouts, niche sports such as paddle boarding, disc throwing and biking have gained popularity on social media platforms this summer.
Chu, who is also a flying disc enthusiast, says he once played the sport eight times a week. "It is not just a game to me. It gives me the thrill of extreme concentration and devotion."
Riding the wave of novel sports, Locker Space has developed fun outdoor activity courses including flying-disc sessions. "The courses offer an outlet for people's desires for outdoor sports amid the pandemic," Chu says.
During the Beijing Sports Consumption Festival this month, consumption of sports-related services rose 56 percent month-on-month, and sales of outdoor sportswear rose 81 percent compared with the same period last year, the internet retailer JD.com says.
Xinhua