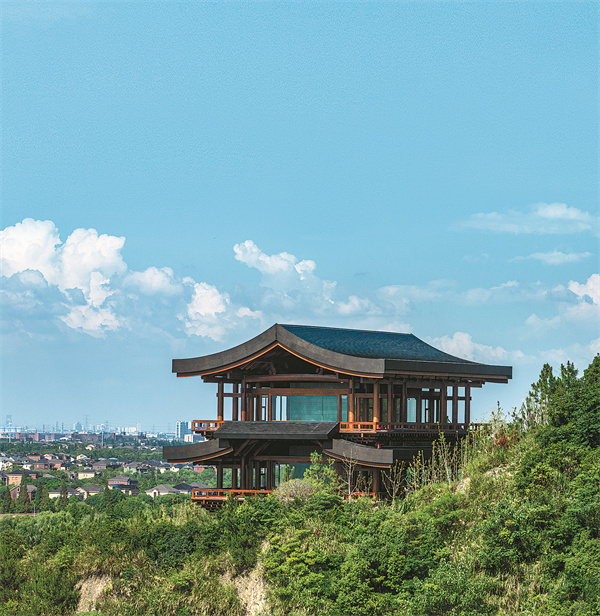 As the Hangzhou branch of the China National Archives of Publications and Culture welcomed its first visitors in early August, it became another landmark in the capital city of East China's Zhejiang province.
Located not far from the Archaeological Ruins of Liangzhu City, one of three UNESCO World Heritage Sites in the city, the venue is an addition to Hangzhou's already impressive list of iconic places.
Covering 103,100 square meters, the Hangzhou branch of the archives is a major architectural complex consisting of 13 buildings and structures.
As well as helping preserve China's bibliographical resources, it incorporates exhibition halls, libraries and museums, among other facilities.
It is designed to promote the preservation, exhibition, research and exchanges of China's archival heritage, and function as a repository for the National Archives in Beijing in the event of a potential disaster, according to Wu Xueyong, who led the preparatory team for the establishment of the venue.
"As the capital of the Southern Song Dynasty (1127-1279), Hangzhou is a city with a profound cultural heritage," Wu says.
"Therefore, what lies at the heart of the venue's archival collection will be the Song Dynasty culture. In addition, the focus will mainly be on those archival materials from the area of Jiangnan (south of the Yangtze River's lower reaches)."
Historically, as a book-loving nation, China used to boast thousands of cangshu lou-ancient libraries aimed at collecting and preserving books and publications.
Figures show that Zhejiang was among the provinces that built the highest number of cangshu lou, with more than 800 erected since the Song Dynasty (960-1279).
Some 11 still stand today, among which is the Wenlan Ge (also known as the Imperial Wenlan Library) in Hangzhou, built during the reign of Emperor Qianlong (1711-99) as one of the seven libraries for the collection of Siku Quanshu or the Complete Library of the Four Treasures.
The Hangzhou branch of the archives, named Wenrun Ge, which roughly translates as "culturally nourishing and gentle", is, to a large extent, a continuation in the spirit of the Wenlan Pavilion, and its architecture is full of ingenious Song Dynasty cultural elements.