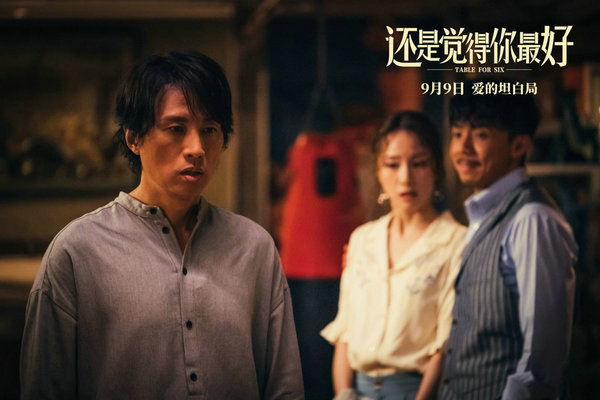 Table for Six, a romantic comedy starring Hong Kong's top stand-up comedian Dayo Wong, recently had its Chinese mainland premiere during the 12th Beijing International Film Festival.
The film, selected as an entry for the annual "Beijing Film Panorama" — a highly anticipated section that totally screened 135 outstanding movies — will be generally released across the Chinese mainland on Sept 9.
Directed by Sunny Can, the story focuses on a Hong Kong family comprised three half-brothers who live together — a photographer, an office worker and an e-sports game enthusiast. After the eldest brother, Wong's character, discovers that the new girlfriend of his younger brother happens to be his old crush, the once harmonious family gets stuck in an awkward predicament, followed by a series of events that leave you wondering whether to laugh or cry.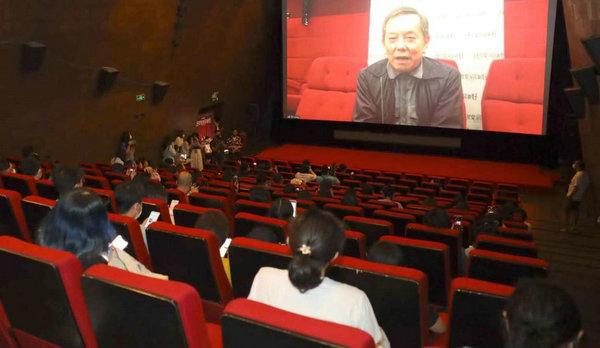 Bill Kong, one of the most famous film producers in Hong Kong's cinema circle, serves as the movie's executive producer. Showing up virtually after the screening, Kong shared with the local audience that he felt impressed toward the storytelling talent of Chan, the director, when he previously worked with as one of the scriptwriters of Kong's 2016 blockbuster Monster Hunt 2.
"Despite still being a newcomer in the directorial field, I have encouraged him to create more quality works. A few years later, I received the Table for Six script from Chan. It's a very interesting story that quickly attracted Wong to be on board," recalled Kong.
He also revealed that the film constructed the main setting — the family's house — two weeks before the filming, allowing major actors to gather inside it, delve into the script and conduct rehearsals, to get a better effect.
Speaking on how Hong Kong once produced a lot of comedies, Kong said he wishes this new movie could fill the gap of such-genre features recent years have left.