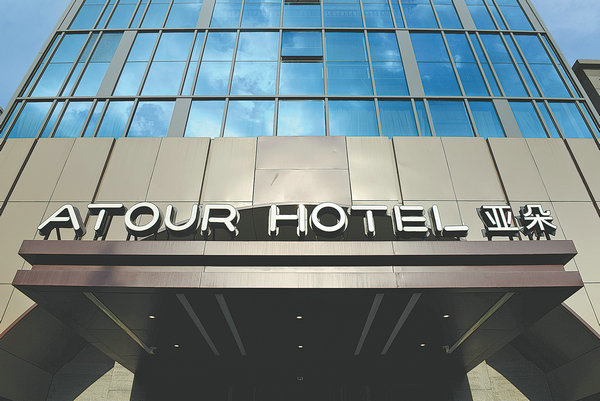 Long-term hotel rental is becoming a trend among young Chinese, who see it as a convenient and budget-friendly alternative to renting an apartment.
Xiao Di, 25, arrived in Beijing to work in 2020 and stayed in a hotel along the South Third Ring Road for a month.
"It was an express hotel. A room cost over 100 yuan ($14.75) a day. I did a calculation before moving in-even if I stayed for a whole month, it would only cost about 3,000 yuan. It was impossible to rent an apartment along Beijing's South Third Ring Road at this price," she told Chinese tourism news portal Travel Zone.
Xiao said there was no need for her to worry about daily chores thanks to the hotel's facilities and services.
"I would go straight to work after I got up in the morning. When I came back, I would see new bedding in my room," Xiao recalled. "I didn't even need to take out the trash or fold my clothes. The housekeeper would fold the clothes I washed the night before after they dried off."
Other reasons for choosing extended stay hotels, as shared on social media, include: no agency fee; the water, electricity, internet, toiletries and breakfast are included; there are 24-hour front desk services; and the contract is more flexible. Some hotels also provide amenities such as gymnasiums and swimming pools.
Hotels are developing long-term rental offerings to respond to demand. BTG Homeinns Hotels has added a section for medium-to long-term stays on the home page of its app. For guests who stay for 14 days or longer, the group's hotels are allowed to adjust rates within a discount range stipulated by the group, according to the Hotel Observation Network based in Southwest China's Sichuan province.
Hu Jinghui, chief economist at the Jinghui Think Tank, told China Business Herald that the hotel industry is entering the long-term rental business at an accelerated pace. This is closely related to declines in occupancy due to COVID-19 outbreaks.
It is reasonable for hotels, especially budget hotels, to seek transformation, Hu said.
But for hotels and tenants, the arrangement is not perfect. For Xiao Yaxing, the owner of a hotel in Central China's Wuhan, long-term rental is a last resort to cope amid COVID-19.
She told the HON that the profit from long-term rental "is very, very low-even to the point of zero".
"Some long-term tenants care a lot about privacy and are unwilling to let us in to do the cleaning. Even when a week's garbage has piled up like a mountain, we are still not allowed in," she said. She explained that this could damage the hardware in the rooms, such as the walls.
Tenants also have their share of troubles. Mandy, a long-term hotel tenant, told Shanghai Observer:"The hotel was much noisier than I expected. The rumbling noise of air conditioners' outdoor units and the sound of people walking and closing doors in the corridor can be heard clearly."
Some people have also given up long-term hotel rental because of inconveniences in daily activities, such as cooking.
Zhang Keyuan went back to renting a conventional apartment after living in a hotel in Shanghai for half a month.
"I had to go back and forth between the bathroom and the workbench when I was washing and cutting vegetables. I had to wash ingredients and laundry in the same sink, and there was virtually no way to store food properly," she was quoted as saying by Shanghai Observer.
A hotel industry veteran told the Beijing-based Economic View website that hotels might be offering long-term rental to increase cash flow to cope amid the pandemic. But in the long run, long-term rental will not become a main business for hotels.
Wei Changren, founder of Chinese tourism news site btiii.com, told China Business Herald that long-term rental is a must-have business for hotels near hospitals, schools and office buildings. To hotels with a relatively poorer location, long-term rental may not be so popular as these hotels lack the advantages of some apartments and may not necessarily be cheaper.
"A more universal way for hotels to drive occupancy may be room renovation, such as equipping the rooms to suit the needs of families with children, senior guests and esports enthusiasts," Wei said.