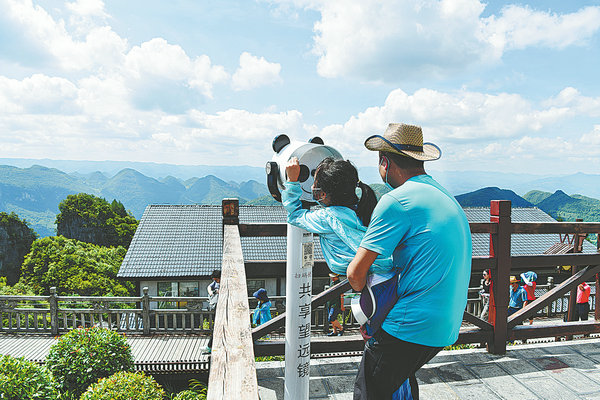 Parent and child travel during this year's summer vacation has played an important role in dragging the domestic tourism market out of the doldrums in the first half of the year, an industry report showed.
According to the report on parent-child travel released by online travel agency Ctrip on Thursday, bookings for parent-child tourism products for this summer vacation accounted for 30 percent of bookings for all types of tourism products. This was 10 percent higher than that in May and June.
The per capita expenditure of parent-child trips was nearly 50 percent higher than that of other tourist groups. Also, the per capita spending on parent-child trips during the summer vacation was 57 percent higher than during the rest of the year.
In terms of travel distance, 45 percent of Ctrip users chose to go on long-haul trips this summer, 29 percent chose to visit destinations close to home, and 26 percent chose to vacation locally.
The report found that parents born between 1980 and 1989 were the main contributor to the parent-child travel market this summer. Their bookings accounted for 53 percent of the total. They were followed by parents born during 1970-79 and 1990-99, who contributed 21 percent and 18 percent of the bookings respectively.
Study tours for children have experienced a notable recovery since the start of the summer vacation. Bookings for study tours for children placed on Ctrip in July increased fourfold compared with that in June.
Study tours to Northwest China's Qinghai province, Gansu province and Ningxia Hui autonomous region, which used to be popular destinations for families with kids, saw bookings drop this summer due to COVID-19 outbreaks in July.
The Inner Mongolia autonomous region in North China and the Xinjiang Uygur autonomous region in Northwest China, which have been less affected by COVID-19 this year, have seen increased popularity. Ctrip bookings for study tours to Inner Mongolia for this summer jumped by 90 percent over that of 2021.
Confident in the summer parent-child travel market, Ctrip has launched hundreds of parent-child tours and study tours. The amount was 1.7 times that of 2019.
Fang Zeqian, an industry analyst with Ctrip, said: "Summer travel this year kicked off as demand that accumulated in the first half of the year teetered toward the verge of explosion.
"Based on the current number of bookings for tourism products and the overall performance of the travel market in July, we can see that the release of the demand for parent-child travel has been a strong booster behind the rapid recovery of summer tourism."