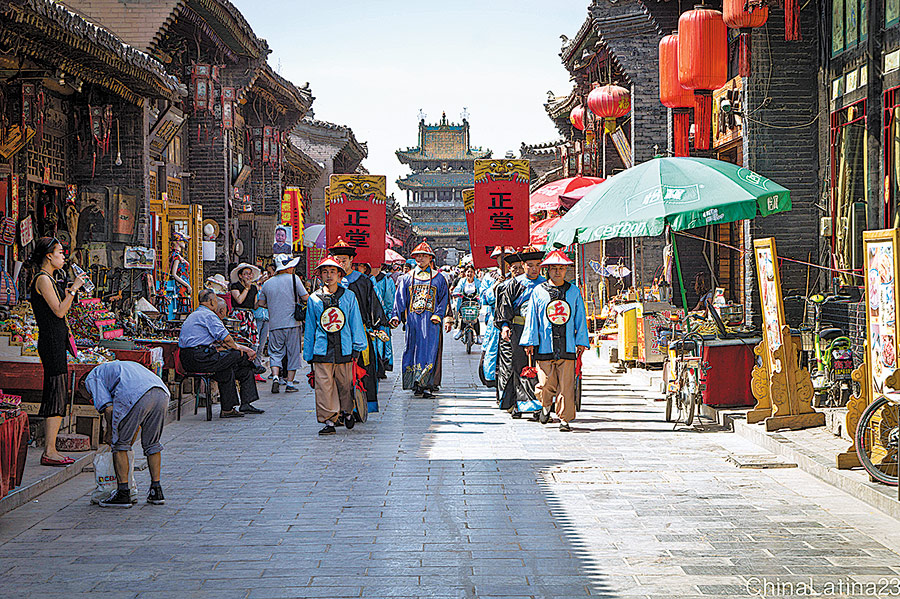 In 2013, director Wang Chaoge produced a gala, Encore Pingyao, where audiences were invited to walk around, enjoy live performances and interact with actors. The stage show was performed three to four times a day, and its annual income soon surpassed 100 million yuan.
In 2017, film director Jia Zhangke rolled out the Pingyao International Film Festival. Tourist footfall surged from 50,000 in 1997 to 17.65 million in 2019, says Guo Xiaoyun, head of the Pingyao culture and tourism bureau.
Lei Cailing has got the full measure of the significant changes in local tourism. She turned a former Shanxi merchant's courtyard into a homestay in 2001. Decorative balls made of red silk, beautiful lanterns, paper patterns on wooden windows and bright quilts on wood-framed beds come together to offer a quaint charm.
Lei Cailing has several patrons who come and stay in Pingyao for a few days every year. Exploring the ancient town on foot, getting to know its intangible cultural heritage, chatting to locals and enjoying some leisure time at bars in the tight network of alleys, never loses its appeal for them.
Lei Yaxian says that more than 35.5 million yuan has been spent to repair more than 10 sections of the inner wall of the town since 2016.
The internal part of the wall features a rammed earth construction-using compacted earth, chalk, lime and gravel-with an outer layer of brick. "The rammed earth will be replenished (during restoration) so that the town can retain its original look," says Shao Shuai, an architect who has been maintaining Pingyao's wall for a decade.
Beneath the boundary wall, an ambitious infrastructure project is underway to upgrade power, telecommunication, sewage and gas lines. This year, the local authorities have also prepared a blueprint for Pingyao's future. All damaged sections of the wall will be renovated by September, a law to protect the local lacquer art will be drafted and an exhibition hall for the town's intangible cultural heritage will be built.