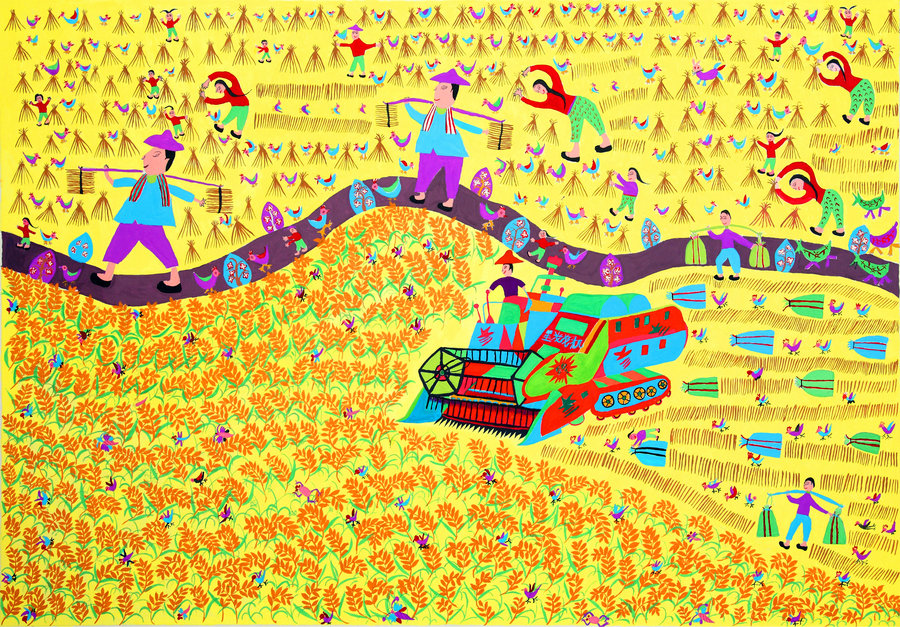 Jiang Sanna, the oldest member of the group and the maker of Fairy Embroidery, gets up at 4 am every day to practice painting. The support from her son and grandson is indispensable, she says. They have installed a 100-watt light bulb for her because of her weak eyesight. Many times, to provide inspiration for her painting, Jiang's grandson walks long distances to neighboring villages to take pictures of natural scenery for her reference. In the past years, over 50 paintings by the "Ten Sisters" have won awards at national and provincial competitions and a number of exhibitions have been organized.
Compared to other genres, farmers painting in China is relatively new. Born from folk traditions, it took roots in rural areas in the 1950s after the founding of the People's Republic of China in 1949, and generally refers to works created by amateur artists who are farmers, herders or fishermen.
Drawing on rural life that these farmer-painters are familiar with, their paintings invariably lend an authentic flavor and vivid color to the social changes that have taken place in the countryside over the past six decades or so.