Ingredients
1 pc large bean curd sheet
10 pcs oyster mushroom
30g winter mushroom
6 pcs baby corn
1/4 pcs carrot (approx. 100g)
1/2 tbsp garlic (finely chopped)
1 tbsp cooking oil
1/2 tbsp shaoxing wine
80ml hot water
3 tbsps corn star mixture
( that is 2 tsps of corn starch + 3 tbsps of cold water)
Seasonings
2 tsps light soy sauce
2 tbsps oyster sauce
1 tsp light brown sugar
1/2 tsp salt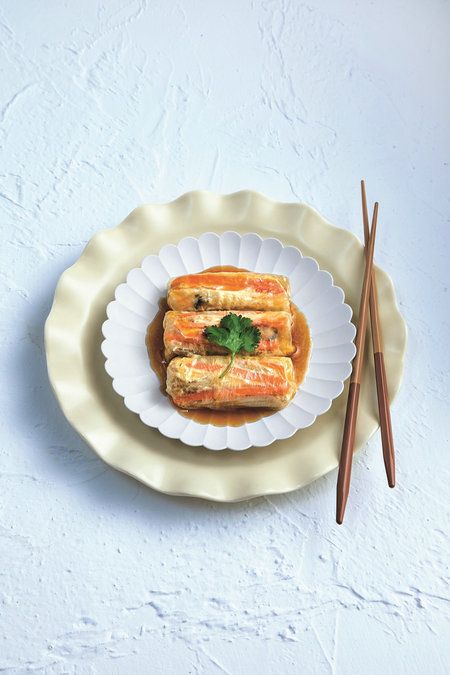 Instructions
1. Lay the bean curd sheet open and use a large bowl to cut out circles of approximately 10 to 12cm in diameter.
2. Soak the oyster mushrooms and baby corns in cold water for 10 mins. Drain and cut into thin strips and set aside
3. Remove the root of the winter mushrooms. Soak in cold water for 10 mins. Tear into small bunches and set aside.
4. Peel and julienne the carrot and set aside.
5. To prepare the stuffing, heat up 1 Tbsp of cooking oil in a wok on high heat. Add garlic, carrot, baby corns, oyster mushrooms and winter mushrooms. Pour Shaoxing wine, saute for 1 min and set aside.
6. Add the seasonings and saute for 1 min. Then add 80ml of hot water, keep stirring until the sauce thickens up. Turn off the heat and separate the ingredients from the sauce.
7. Put in 1 Tbsp of the stuffing and roll into a cylinder. Put the rolls on a plate and cover with heat resistant cling wrap. Steam for 5 to 6 mins.
8. When done, take out and drain the accumulated water. Reheat the sauce on high heat. Add corn starch mixture and stir well. Then pour on to the bean curd rolls.