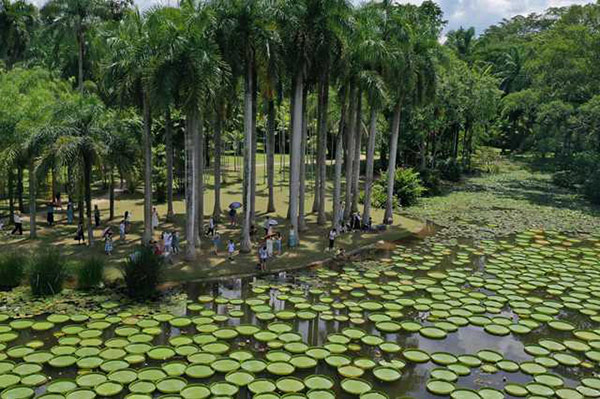 Renewed hope in sector as various tourist resources contribute to rise in sites' revenues
Tourist attractions across China are offering free entry to attract visitors as the recent COVID-19 outbreaks in parts of the country come under control. The country's recent removal of the indication of travel through COVID-affected areas on a mobile app is expected to further boost domestic tourism.
To facilitate domestic travel, the Ministry of Industry and Information Technology announced on June 29 that the asterisk mark indicating an individual had been to an area with medium- or high-risk areas for COVID-19 in the previous 14 days would no longer appear on a digital travel history card that has been used since the onset of the pandemic in 2020.
Within half an hour of the announcement, searches for flight tickets on online travel platform Tongcheng Travel jumped 180 percent from the same time on the previous day. Searches for hotels surged 220 percent.
Li Mingde, an academic adviser with the Tourism Research Centre of the Chinese Academy of Social Sciences, told China News Service that the move would "undoubtedly give a great boost" to the country's tourism industry.
To encourage people to get out, numerous tourist attractions, including some top-rated ones, have started to offer free access.
"The bustling Huashan Mountain is back," a 57-year-old local tourism merchandise vendor surnamed Li told Xi'an Daily. The famed attraction in Shaanxi province boasts a 5A rating; the highest in China's rating system for tourist attractions.
"I have seen a notable increase in tourist numbers since Huashan's free entry policy kicked in. My business is much better now, which has renewed our hope for the tourism market," Li said.
Huashan announced in May that it would offer free admission from June 1 to 30 and the daily visitor numbers would be capped at 15,000. On June 28, it announced the policy would be extended through to July 31.
From June 1 to June 25, the transportation service and ropeway service in the scenic area and businesses at the foot of Huashan and in the city of Huayin, where the mountain is located, recorded a combined revenue of more than 90 million yuan ($13.42 million), Xi'an Daily reported.
Besides Huashan, popular tourist attractions including Lushan Mountain in Jiangxi province, Changbai Mountain in Jilin province, Huangguoshu Waterfall in Guizhou province and Zhangjiajie Grand Canyon in Hunan province are also offering free tickets.
An important way to make sure that the free entry policy makes financial sense is to promote spending on products and services other than tickets.
Zhangjiajie Grand Canyon, which offered free admission for some time last year, announced that it would continue to do so from May 11 to Dec 31.
Last year, the scenic area earned 10 million yuan from revenue sources other than ticket sales during the two months when it was offering free entry. That was twice as much as usual, tourism news site New Lvjie reported.
Wang Weiguo, marketing director of Zhangjiajie Grand Canyon, told New Lvjie that the scenic area has not stopped investing since the pandemic first broke out in 2020. It has introduced secondary tourist resources such as bungee jumping facilities, virtual reality experiences and rock climbing facilities.
As a result, the proportion of earnings from secondary resources has increased from 10 percent in 2019 to 30 percent this year.
Fang Zeqian, an industry analyst with Ctrip, told Guangming Daily that offers such as free entry not only improve the attractiveness and competitiveness of tourist attractions, but also boost tourist spending on secondary resources such as transportation and dining.
However, free admission has limited appeal for interprovincial tourists, Cao Yong, a senior specialist in resort operations, told New Lvjie.
Although free admission can promote intraprovincial travel, the offer appears less attractive to long-distance and interprovincial tourists because they have to consider the costs of transportation, accommodation, food and time, Cao explained.
"Promoting expenditure on tourist resources other than tickets can be an effective approach," Han Yuanjun, a researcher at the China Tourism Academy, was quoted as saying by Guangming Daily.
Family-oriented tourist attractions, for instance, can launch diversified, high-quality and technology-aided experiences for children, Han suggested.