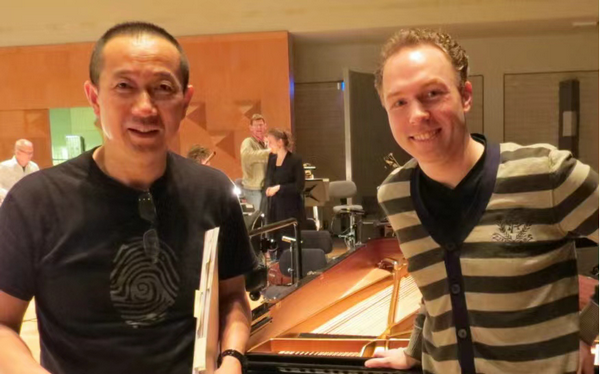 Tan is also known for composing soundtracks for movies and one of his most famous works is his original score for director Ang Lee's film Crouching Tiger, Hidden Dragon (2000), which won both a Grammy and an Oscar.
In the new album, the composer adapted his score for the Chinese film The Banquet, which was directed by Feng Xiaogang in 2006, into a piano piece. It was the first time that the piano version was released to the public.
The vibrant music piece, Blue Orchid, commissioned by Austrian pianist Rudolf Buchbinder to mark the 250th anniversary of the birth of German composer Ludwig van Beethoven in 2020, incorporates the opening motif of Beethoven's Diabelli Variations.
Asked about his friendship with Dutch pianist Van Raat, Tan says that they've toured together many times throughout the whole world and had great times together.
The Fire, written by Tan for Van Raat, contains some of the composer's most virtuosic and dramatic piano writing. It was featured in the new album as the music piece's world premiere.
"Since my teenage years, I have been a fan of Tan Dun's music, and I had performed his Eight Memories in Watercolor several times already in concerts," says Van Raat, who first met Tan about nine years ago when he performed Tan's Banquet Concerto with a Dutch orchestra under the baton of Tan. The pianist performed in China for the first time in 2010 during Expo Shanghai, where he played a recital featuring works by both Dutch composers and Tan. Since then, he has been invited to perform in China frequently.
In 2014, the pianist decided to perform the complete piano solo music of Tan. The idea grew to record a full CD with his piano solo works.
The album, Eight Memories in Watercolor, was recorded during the pandemic in August 2020 in the beautiful concert hall in Amsterdam. The pianist and the composer spent 15 months preparing for the album with online discussions and sending sound files now and then.
"I love all the pieces for very different reasons, also because the pieces are so diverse," the pianist says. He adds that perhaps the most striking one is C-A-G-E, since it really seems to transform the sound of the piano completely into the sound of a Chinese instrument.
"It is incredibly inventive, how Tan Dun has thought of special playing techniques directly inside the strings of the piano, as if you are playing for example a Chinese pipa. The result is a perfect blend between East and West-the modern Western grand piano which produces music which immediately evokes the sounds and silences of the East," he says.