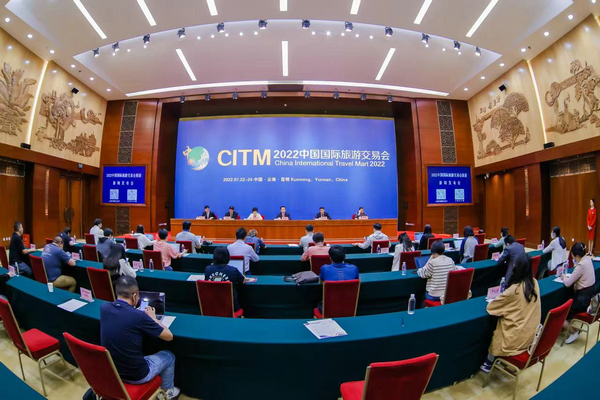 The 2022 China International Travel Mart was launched in Kunming, Yunnan province today. The three-day event opened at the Kunming Dianchi Lake International Convention and Exhibition Centre, with a theme focusing on smart innovation and high-quality tourism industry aspects.
The news conference was held in the city on Thursday. Zhang Xilong, first class inspector of the Bureau of the International Communication and Cooperation of the Ministry of Culture and Tourism of China and Lou Kewei, deputy-director of the Department of Culture and Tourism of Yunnan province presented the meeting along with academy and entrepreneur representatives.
The conference introduced the preparations and relevant activities of the mart, such as a forum on smart tourism and innovation, a symposium on international travel communication and cooperation in the framework of Regional Comprehensive Economic Partnership (RCEP) and a workshop on the China-Laos railway's contribution to building an Asian community with a shared future.
According to the news meeting, the 2022 travel mart covers about 80,000 square meters, with about 4,200 standard booths. 71 countries and regions attended the event both online and offline, and 31 domestic provinces, cities and autonomous regions and 261 independent exhibition teams.
Online services will be provided to the overseas buyers and sellers in the light of time zones. They could also have a face-to-face negotiation at the mart as well.
The mart also has diverse displays to show culture and tourism, physical education and tourism, as well as overseas tourism and museums.
The National Cultural Heritage Administration, the Palace Museum and museums from other provinces will attend the travel mart.
At the event, Yunnan province will have 2,000 standard booths in four separate sections; each will show culture tourism, healthy lifestyles, physical education tourism and culture tourism consumption.
The travel mart will also stick to the rules of pandemic prevention and control while having the activities go on smoothly.