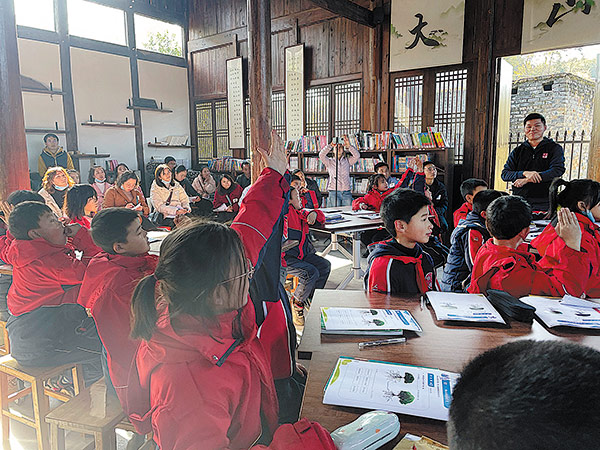 NGO is taking a more considered, innovative and relevant approach to education in rural China, Fang Aiqing reports.
In Xinglong village in Zheng'an county, Southwest China's Guizhou province, around 30 urban students are attending a small primary school, attracted by its wholesome curriculum system that makes learning fun and a life rooted in the soil enjoyable.
Tianzige Xinglong Experimental Primary School offers a localized, humanistic education that Xiao Shijian, the founder of the NGO Tianzige, has been exploring and promoting since the organization took over the school in 2017.
The school, at the foot of Tianlou Mountain and not far from Furong River, is surrounded by layers of terraces, pine woods and bamboo forests.
At this time in spring, the mountains are often covered with cloud and mist. The trees near the paddy field are reflected in the natural spring water, which is populated with fish, and occasionally, ducks.
The school now has 85 students and 14 teachers.
Every morning, the students take turns to do some farm work, from planting vegetables and removing weeds, to building the henhouse and feeding the poultry.
They grow a dozen vegetables including cabbage, Chinese chives and turnip, and sell the harvest to the teachers. The revenue and expenditure is made public every month.
They also learn to create handicrafts, which they are allowed to sell, and the income is invested into school development and investigative study.
Taking advantage of the local environment, the students have mixed-age, project-based courses, which integrate multidisciplinary knowledge that leverages the surrounding natural environment and the local culture and history.
They involve topics that not only cover local flora and fauna, geography, agriculture and dwelling styles, but also family history, conflict resolution and how to get along with their parents, who work in faraway cities.