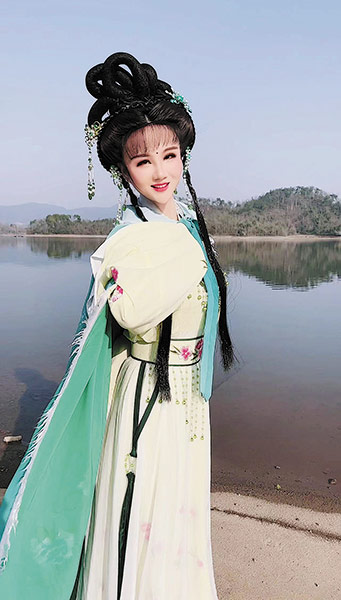 Veteran performers and amateurs alike are promoting traditional art forms via livestreaming, Ye Zizhen in Beijing and Liu Kun in Wuhan report.
After some four hours of getting her makeup done, an artist was about to meet her audience online. Starting in April last year, Chen Yu began to perform excerpts of Yueju Opera, a traditional art form popular in Zhejiang province and Shanghai, by livestreaming on short-video platform Douyin, which is known as TikTok overseas.
"At first, no one knew about me, and the number of audience was small," Chen says.
"But I continued singing, and I began to get messages. People noticed that I work hard, and I guess they were inspired by my spirit."
Chen, who was born in 1986 in Ningbo, Zhejiang, attended an art college in the city's Xiangshan county after junior middle school to learn how to perform Yueju Opera.
Almost daily for three years, starting at 5 am, she practiced singing and movement, gradually mastering the art form. For a time, she played a young male role, or xiaosheng, as part of a local opera troupe in Ningbo. But she lost her job because the shows were reduced as a result of the COVID-19 pandemic. So, she looked for alternatives.
"I loved Yueju Opera and performing, and didn't want to give it up," she says.
Along with many of her peers, Chen started livestreaming on Douyin. Her first performance drew a paltry audience of a few dozen. But her popularity suddenly exploded, and she has attracted an online fan base of more than 210,000.
Six days a week, her fans watch her livestreaming, either performing popular Yueju Opera excerpts or talking about the art form. One livestream session can last up to six hours.
"Livestreaming makes this traditional art form trendy and more promotable," she says.
However, she says she still hopes to return to the stage one day.
Zhang Yiwu, a professor at Peking University, says in an interview with The Beijing News: "The influence of the internet in promoting knowledge and traditional culture, including operas and other forms of intangible cultural heritage, is increasing through social media platforms."
Other traditional art forms have also become more visible as a result of social media.