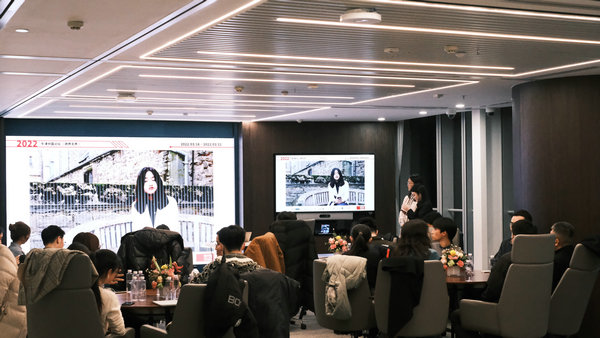 Jiang Yuhui, a professor at the philosophy department of East China Normal University, learned something valuable from his daughter one day that launched a new body of research. He easily recalls the moment he picked up his daughter from school several years ago. She then asked him to play the songs of virtual idol Luo Tianyi on the car radio. Feeling both confused and curious as to why his daughter liked the songs, which he readily admits were "not his type", he was told by his daughter that she believed Luo sang well, and hoped to sing like her.
"It impressed me," he says. "We all know virtual idols are not real, without an actual body or emotions like human beings, but why do some young people believe they are real, and regard them as idols who can inspire them?"
The experience was the start of his research into virtual idols. He told the story during the 9th Oxford China Forum, an annual meeting initiated and organized by Oxford students, which was held, online, over March 18-21. The forum contained six sub-forums and two seminars, discussing topics like interdisciplinary studies, the aging society, virtual idols and art in the new media age.
As a student-run annual conference established in 2013, the OCF brings together scholars and professionals from different fields to share and discuss ideas.
"We hope to offer new perspectives and thoughts to academic research through the unique observation of society by young people," says Cai Zixi, president of this year's conference, who is also a student at the University of Oxford.
The theme for the conference this year is Transcending Boundaries. "In our lives, boundaries are omnipresent," according to the forum's organizing committee. "While boundaries are useful tools that help us better define and understand the world, at times, they divide different fields, industries, countries, and human relations in such a way that not only limits people's ability to understand and empathize with each other, but also impedes our imagination of the future."