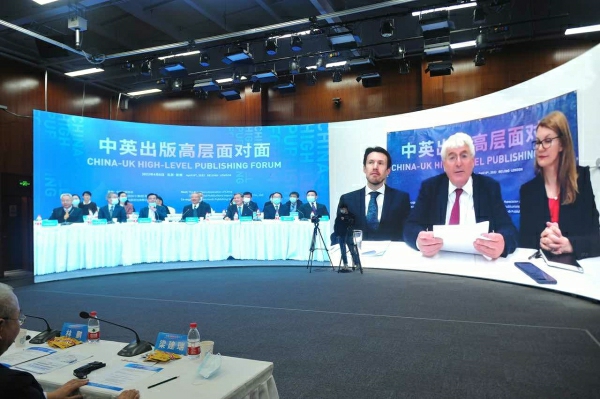 On April 6, the China-UK High-Level Publishing Forum was successfully held during the London Book Fair. Publishers from China and the UK met online in Beijing and London for the forum, "Publishing Cooperation Contributes to Global Technological Innovation".
Wu Shulin, executive president of the Publishers Association of China, delivered a keynote speech, and Stephen Lotinga, chief executive of the UK Publishers Association, gave a video speech. Li Pengyi, PAC executive vice-president and Richard Charkin, former president of IPA, moderated the meeting. Lin Peng, chief executive of China Science Publishing & Media Group Ltd.; Shi Lei, deputy editor-in-chief of Tsinghua University Press; Alison Mitchell, chief journals officer of Springer Nature; and Seth Caylay, vice-president at Gale of Cengage Learning, made speeches. Liang Jianrui, vice-president of China National Publications Import & Export (Group) Co., Ltd. and Pi Jun, president of China Youth Publishing Group, attended the event on behalf of the host and co-organizer.
This year marks the 50th anniversary of the establishment of diplomatic relations between China and the UK at the ambassadorial level. This forum between the publishing communities of China and the UK, as attendees agreed, will not only help to deepen China-UK publishing cooperation but also play a role conducive to promoting exchanges and mutual learning between the two countries in cultural and other fields.