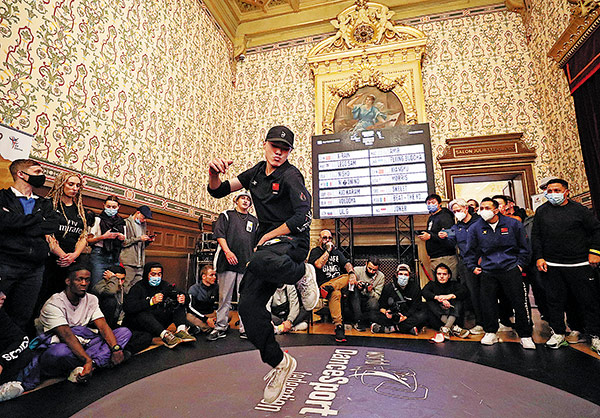 Young Chinese break dancers are actively preparing for the 19th Asian Games Hangzhou 2022, which are set to take place in September. The modern dance style will feature in the event program of the Asian Games for the first time.
Break dance is a genre of street dance that originated in the United States and was popularized in the latter half of the 20th century. The International Olympic Committee added the dance to the medal program of the 2024 Paris Olympics in 2020.
Three selection trials, involving break dance battling and a physical strength test, were originally scheduled once every month from March to May and were designed to pick out four competitors and four substitutes to compete on behalf of China at the Hangzhou Games.
However, due to the ongoing, fluctuating pandemic situation, the timetable has been affected.
Break dance, also called breaking, is more difficult and personalized in terms of moves when compared to other modern dance genres like hiphop or popping and locking. The dancers are called B-boys, B-girls, or breakers in general. It's competitive in nature, especially when it comes to 1 vs 1 battles, in which the conflicting dance moves have an undeniable aesthetic appeal, says Pei Dongguang, or B-boy Kim, 37, who has been a frequent judge of domestic and international breaking competitions.
In December, China's national breaking team made its international competitive debut at the World DanceSport Federation World Breaking Championship held in Paris.
The championship saw B-girl Ayumi from Japan and B-boy Victor of the United States claiming world titles. The four Chinese breakers didn't make it to the top 8 in either gender category.