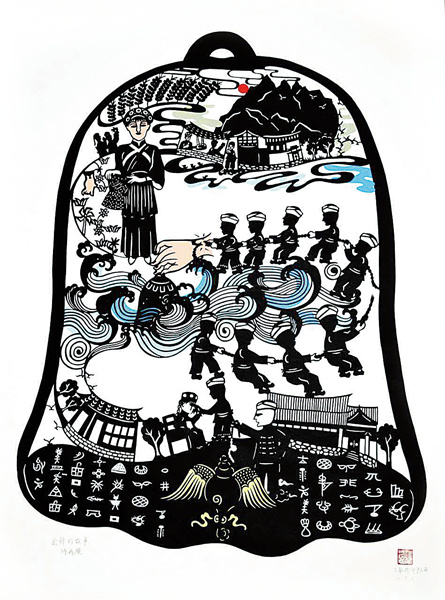 There are several items that most women would consider to be daily essentials that they need to have in their purses at all times. Few would consider a pair of scissors to be among these items. But for Shi Qinling, this tool has been with her everywhere she goes for the past decade-not as a means of self-protection but artistic expression.
To this paper-cutting artist, scissors are like what brushes are to painters, or what pens are to writers. Always having a pair of scissors on her also allows her to create art whenever inspiration hits. Most of her paper-cutting works are inspired from moments in daily life, such as a neighbor's dog, her own pets and scenes on the streets.
"Some people like to pen their feelings in diaries. I prefer to cut them out," says the 35-year-old, who is currently working at the Fenglin community cultural activity center in Shanghai.
Shi developed an interest in handicraft when she was a child who often found herself alone at home. Out of boredom, she would play with scrap paper, folding and cutting them into different shapes. This interest later developed into a passion, one that she decided to pursue by majoring in arts and crafts design during her time in university. After graduation, however, she found herself working at a ship design company as she was unsure about what she wanted to do with her future. About a year later, the Shanghai Arts and Crafts Research Institute offered her a position in their paper-cutting department.
Realizing that she still had a love for the craft, she made the career switch. The initial experience, however, was not something she enjoyed.
"It was very boring at the beginning as I had to spend at least eight hours cutting one single shape every day for a whole week. However, when I was deemed qualified to attempt a more difficult shape, I gained a sense of achievement, and this encouraged me to soldier on," says Shi.
In 2010, she started learning paper-cutting from Xi Xiaoqin, the national inheritor of the intangible cultural heritage for paper-cutting. Three years later, one of her works, The Fighting Fish, won third place at the Baihua Cup, a competition for Chinese arts and crafts. Six years later, Shi was named a Shanghai paper-cutting inheritor and become the city's "youngest inheritor" of the paper-cutting heritage.