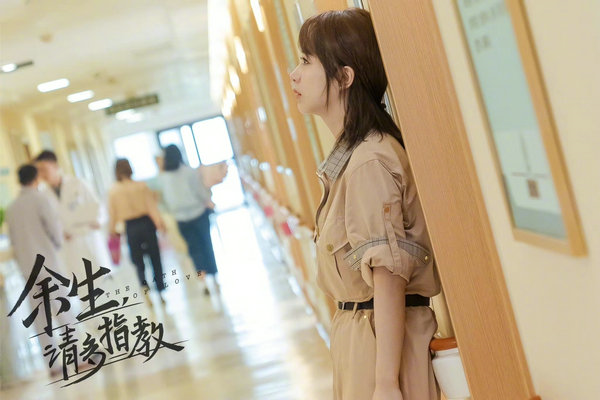 As one of the most popular TV dramas this month, The Oath of Love — a romance starring idols Yang Zi and Xiao Zhan — has seized widespread attention online since it started its run on Hunan Satellite and the streaming site Tencent Video on March 15.
Adapted from the novel of the same name by Bolin Shijiang, the series follows Lin Zhixiao (Yang), a third-year college student majoring in music, as she stumbles upon Gu Wei (Xiao), a promising young gastroenterologist. After experiencing a string of coincidences, Lin discovers Gu is the attending physician for her father, who has been diagnosed with stomach cancer. In the torturous days spent helping her father fight the disease, Lin develops romantic feelings for the young doctor, who reciprocates in kind.
In the beginning, the protagonist plans to enjoy a joyful reunion with her friend at a bar, but the gathering is soon upended by her father, a demanding high-school teacher.
According to the producers, the series examines the confusion and stress felt by most young people in modern society, as well as raise public awareness about a pattern of parenting.
Interweaving romantic scenarios with a reflection of typical Chinese parents — most of the time criticized as overly tough, strict and disciplinarian, the drama aims to resonate with young audiences as depicting their pressures and yearnings in the story.
Currently, the drama has obtained 8.3 points out of 10 on the fan-driven Asian content-specialized review site MyDramaList. It is also available overseas.