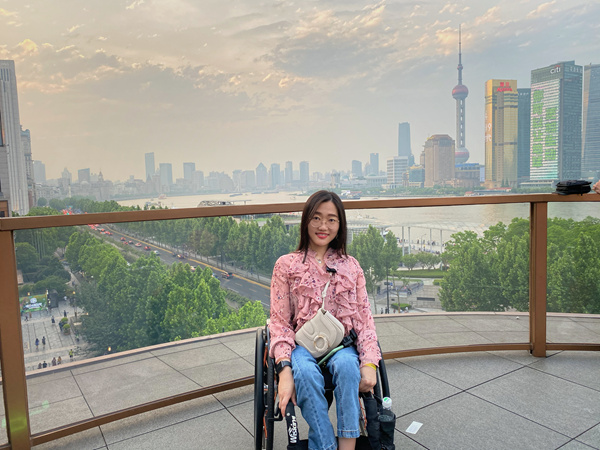 Bilibili star uses her platform to promote greater understanding of the lives and needs of disabled people, He Qi reports in Shanghai.
Compared to most people with disabilities, Zhao Hongcheng is lucky.
Born in 1990, a wheelchair has been part of Zhao's life since she was 1 year old due to the aftereffects of poliomyelitis. However, it did not stop her from completing her college and graduate studies before becoming a white-collar worker in Shanghai. And now, as a video content creator who has over 84,000 followers on the video-sharing platform Bilibili, Zhao wants to be a bridge between the disabled and the rest of society.
Growing up in Shaodong, a small county in Hunan province, Zhao's childhood was relatively smooth thanks to the support of her parents.
"Maybe because my parents are teachers, they attached great importance to my education, so I successfully completed my studies," says Zhao, who majored in English at a university in Hunan province and later pursued a master's degree in English literature at a university in Shanghai.
After graduating, Zhao was hired by e-commerce giant Alibaba in Hangzhou, Zhejiang province. She spent the next five years working in the internet industry as a product manager for both gaming giant NetEase and service company Meituan.
First attempt
"I made my first video in 2019," Zhao says, adding that it was also the year she moved to Shanghai.
"My original purpose was to find an emotional outlet. I always encountered inconvenience caused by my wheelchair when going out, which made me feel sad. However, I barely had any disabled friends, so I had no one to talk to. I felt quite lonely," Zhao explains.
In 2019, the rising popularity of short videos inspired Zhao.
"I felt that I should make some videos of what I experienced in my daily life. If it went well, it could give people with disabilities references and suggestions, and if not, at least it would draw people's attention to related issues," Zhao says.
Under the username Da Chengzi Hao Meimei on Bilibili, her first vlog was about a trip to Guangzhou with friends. The video was viewed more than 2,000 times on the first day, which surprised Zhao.
"I had no idea that this content would attract such a large audience," she says. She had joined many disabled communities during that time and received a lot of positive feedback about that video.
"This made me feel that there were many things worth sharing in my life, and it also gave me a sense of mission," she explains. That first video has since been viewed over 48,000 times.
Her fourth video, displaying how she got to work in a wheelchair, made her even more popular.
In the video, she rides her wheelchair to work, gets lunch in the canteen, and goes on an outing with colleagues. "I just want to show how convenient it is for me to work in an office and to encourage more disabled people to find a job and live a regular lifestyle."
The video received more than 300,000 views on Bilibili in a short period of time.
"During that time, I received many private messages on Bilibili, besides many invitations from the media, which made me realize that I'm not just followed by a small group of people, as I had previously thought," she adds.
Rising ambition
After her fourth video went viral, she continued to make short videos and, in 2021, became a full-time content creator on Bilibili.
In her video about an accessibility bus tour in Shanghai, she put forward a piece of advice for such facilities. Fortunately, her proposal was adopted by the city and is currently being optimized.
To test the convenience of barrier-free public transport in Shanghai, she showed up at the bus station alone. After waiting for nearly 10 buses with no sign of accessibility facilities, she finally managed to get on one. Although she got on the bus and arrived at her destination, the trip was not very smooth.
"If people with disabilities face such service every day, they will definitely give up traveling," she says in her video.
Therefore, Zhao penned suggestions to related administrations, including providing information on bus routes with accessibility facilities and standardizing the service for disabled passengers.
"I hope my travel can be guaranteed by the system, rather than relying on the kindness and consciousness of bus drivers," Zhao says in her video.
Before long, the Shanghai Municipal Road Transport Administrative Bureau provided its feedback to Zhao. As well as accepting the suggestion, they also improved the situation.
Zhao's other videos, including a list of praise and criticism for various daily travel experiences in Shanghai, have also received wide attention. Her trips include those to theaters, cinemas, and bookstores, all of which have resonated with many disabled people, leading her to call for equal treatment of the disabled in public places.
"One of the great things about being a content creator is that I feel like I have the initiative of discourse-that is, (talking about) the real difficulties and pains that a disabled person faces," Zhao says.
"Many stories or reports on people with disabilities are covered by the so-called able-bodied, and rarely report from the perspective of a disabled person," she says. "We go to college, find a job, go on dates-but these are just our daily lives."