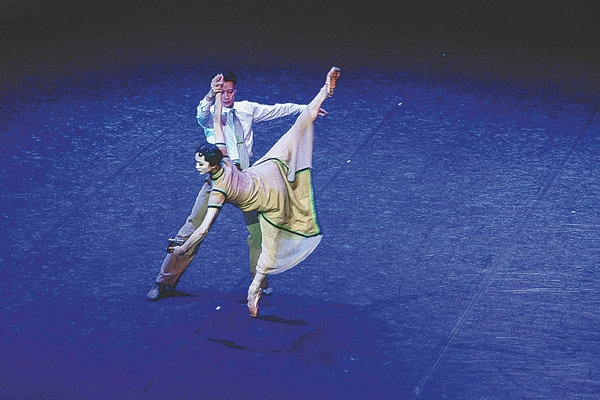 Shanghai Ballet will present more than 80 shows of 11 productions at seven theaters across the city this year, nearly double the number than last year.
"Since the establishment of the company in 1979, we have built a repertoire of more than 170 productions," Xin Lili, director of Shanghai Ballet, said at the launch of its 2022 performance season on Tuesday.
The 11 productions were selected to show the company's achievements in different periods, and reflect its versatility and international vision, Xin adds.
Shanghai Ballet will present The White Haired Girl at the Shanghai International Dance Center from March 3-5. Created by the Shanghai Dance School in 1964 and adapted from an opera on the same subject, it is China's first original ballet production. In 1979, the team that performed it changed its name to Shanghai Ballet, which marked the founding of the company.
"Since then we have established a distinctive Shanghai-style ballet," Xin says.
The most important production of Shanghai Ballet so far has been a version of Swan Lake, choreographed by British director Derek Deane. The large-scale production, which features an ensemble cast playing 48 swans, has gone on tour in China and overseas since it premiered in 2015. The company will present the ballet at the Shanghai International Dance Center in March, Shanghai Culture Square in June and Shanghai City Theater in December.
Late Russian composer Tchaikovsky's Swan Lake is one of the most popular ballets worldwide.
Shanghai Ballet will also present new productions such as the revolutionary-themed ballets The Burning Youth and Bright Red Star, and revive some productions that have not been staged for seven years or longer.
A Sigh of Love, for example, was created 17 years ago by French choreographer Bertrand d'At. The ballet tells of a love story set in the 1930s Shanghai, and is the first production where Wu Husheng, now principal dancer of Shanghai Ballet, took on a leading role. While 36-year-old Wu is confident that his career as a dancer can go on for another 10 years, he is nevertheless exploring new avenues as a choreographer. Wu's creation of the modern dance production A Journey With No Bounds will be presented at the Shanghai International Dance Center from May 4-7.