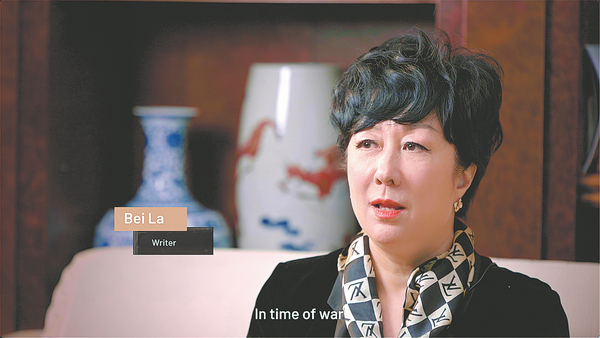 The English version of documentary Song of Survivors, inspired by Shanghai-born Chinese-Canadian Bei La's novel of the same title, will make its debut on the International Channel Shanghai on Saturday. The documentary, whose Chinese version was aired by Shanghai Dragon Television on Feb 16, marks the latest effort by Bei La to highlight the history of Jewish refugees in Shanghai during World War II.
In the 1930s and '40s, Shanghai took in around 30,000 Jewish people who fled Nazi-occupied Europe.
Bei La, who developed a keen interest in their stories, started writing a series of books titled Jews in Shanghai in 2005. Part of efforts to produce the series involved visiting Jewish people who lived in Shanghai during the war and collecting historical material.
Released in 2019, Bei La's second novel Song of the Survivor is based on experiences of film producer Mike Medavoy's parents Michael and Dora Medavoy from the United States. They were Jewish refugees living in Shanghai. Their son Mike, who was born in the Chinese city, is a successful Hollywood producer, having worked on more than 300 feature films, including the acclaimed Black Swan.
Song of Survivors follows Bei La as she unearths details of the family's past in Shanghai. The English edition of the book, translated by Jewish Sinologist Howard Goldblatt, has been widely acclaimed. The success of the book has also sparked various renditions of the story, from music to sculptures and films.
On Jan 27, which marked the 77th international Holocaust Remembrance Day, a bronze sculpture based on the novel was unveiled at the Shanghai Jewish Refugees Museum. The piece depicts the Medavoy family departing Shanghai in 1948.
Bei La says she will be creating more artworks as a homage to her birthplace.
A concert dedicated to Song of Survivors was held at the Shanghai Concert Hall in November. The concert featured recitals of excerpts from the book by several voice actors. Bei La also sang at the concert songs adapted from Jewish ballads and folk songs.
Zhao Qizheng, former director of the Information Office of the State Council, who attended the concert said the "stories in the book remind people about the importance of different nations recognizing common values and standing in solidarity against obstacles".
This year marks the 30th anniversary of the establishment of China-Israel diplomatic relations.
Xu Shuwei contributed to this story.