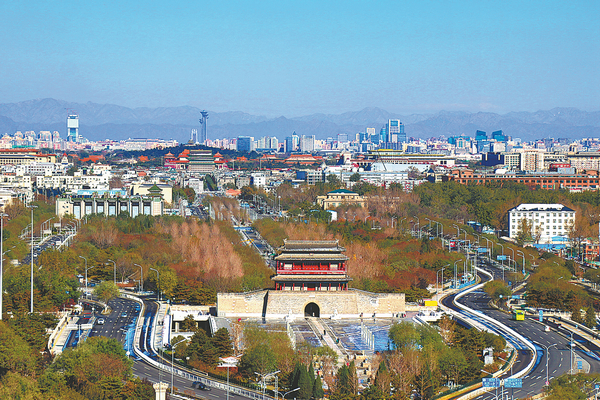 Beijing is making steady progress in seeking UNESCO world cultural heritage status for its central axis, as the draft application text was submitted to the World Heritage Center for format review ahead of schedule, according to officials.
"The year 2022 will be critical for the application of the central axis to be put on the list of world cultural heritage sites. We will complete the submission of the official application text this year," said Liu Hongchang, spokesman of Beijing's cultural heritage bureau, at a news conference held in the 2022 Beijing Media Center on Feb 13.
With a history of more than 750 years, Beijing's central axis stretches 7.8 kilometers, connecting renowned historical sites, including the Temple of Heaven, Forbidden City, Imperial Ancestral Temple, the Bell Tower and Drum Tower.
A three-year action plan on the conservation of the central axis was issued in August 2020.
Liu said the projects related to cultural relics conservation and restoration, archaeological excavation, environmental improvement and resident relocation have, as planned, been going well.
"The municipal cultural heritage bureau will focus on polishing the application text and strengthening our communication with such international organizations as the World Heritage Center and the International Council on Monuments and Sites, trying to raise the international profile of the central axis," Liu added.
At the news conference, Liu Bin, deputy director of the city's culture and tourism bureau, said Beijing will continue to distribute subsidies to representative inheritors of intangible cultural heritage across the city and ensure that they can pass on their skills.
He added that measures for managing representative trustees of intangible cultural heritage will be carried out by Beijing this year. And then, the system of life tenure for these trustees will be abolished.