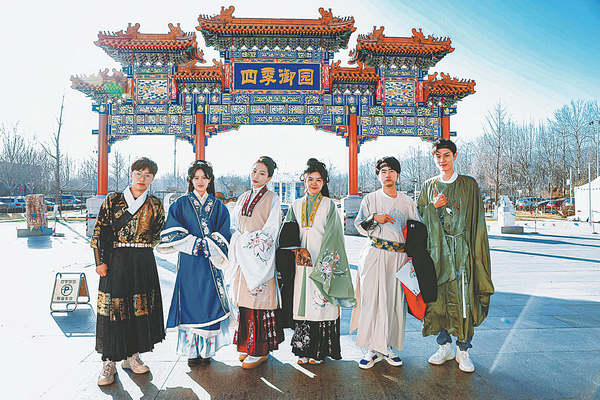 On a chilly December morning in Beijing, Zhang Ting rose at 6 am and started to dress for her trip to the Summer Palace.
The stylish 28-year-old, a hip-hop singer-songwriter, sat in front of a mirror and tied her hair into a sleek ponytail.
Two hours later, Zhang, wearing hanfu-traditional Chinese apparel-arrived at the Summer Palace, an imperial garden established during the Qing Dynasty (1644-1911) and a UNESCO World Heritage Site.
She visited the venue to gain inspiration for a new song, for which she planned to mix elements of traditional Chinese culture with her own style of music, known as guo feng, or music with a Chinese flavor.
The total number of online plays for such music in the 12 months from June 2020 more than doubled from about 12 billion to 29 billion, according to Tencent Music Entertainment Group, the nation's leading online music and audio entertainment platform.
In the 12 months from June 2020, 51 Chinese pop songs in the guo feng style were played more than 100 million times.
Zhang joined a workshop launched by Tencent Musician, a Tencent Music platform aimed at supporting and cultivating original Chinese music and independent musicians from China. In addition to the Summer Palace, the workshop took participants to many historical sites in Beijing, including the Old Summer Palace and Xiangshan Mountain.
The three-day activity brought together singer-songwriters from around the country and targeted new songs featuring elements of guo feng, which is particularly popular with young Chinese music lovers.
Zhang, who lives in Nanjing, capital of Jiangsu province, has many fans on social media, who know her by the stage name Ukeyz.
"I'd never dressed in hanfu before, and that morning at the Summer Palace, I felt as if I was traveling back to ancient China. I just followed my intuition to see where I would arrive at, musically, by the end of the day," she said.
When Zhang passed an old building in the palace grounds, she was told by a tour guide that it was the Great Stage of Dehe Garden, the largest ancient stage in China. Overwhelmed by the stunning architecture, Zhang couldn't help imagining scenes of artists from ancient China performing onstage.
Soon afterward, she wrote the song Hong Yu in memory of Liang Hongyu, a renowned heroine during the Song Dynasty (960-1279).
Zhang said: "Many female warriors are portrayed in Chinese folk tales, which in turn are transformed into stage roles, especially in Peking Opera pieces. I have always loved these female roles, which can be just as good, if not better, than male ones. Images of these female roles came instantly to mind when I saw the ancient stage at the Summer Palace."
Hong Yu won applause from other musicians at the workshop, including one of the coaches, Billy Koh, a veteran producer and songwriter from Singapore. He worked with Zhang on the song, which will be released soon.
Chinese reality shows have also highlighted guo feng music. For example, Zhongguo Chaoyin (In China), which premiered on the streaming platform Youku in November, has won a fan base with its creative display of traditional Chinese music for young people.
In the show, a diverse range of contemporary music genres, including hip-hop and rock 'n' roll, are combined with elements of traditional Chinese music.
Companies producing popular videos games and animations are also keen on integrating guo feng music into their products.
For instance, in July, when Honor of Kings, one of the best-selling video games by Tencent Games' TiMi Studios, introduced its new character, a female warrior named Yun Ying, veteran pipa player Zhao Cong was invited to perform new theme music for the character.
Zhao, the China National Traditional Orchestra's principal pipa player, wowed fans with her solid technique of playing the traditional instrument-a four-stringed lute with a history of more than 2,000 years.
Using different techniques, such as plucking the strings and sweeping the pick across them, Zhao vividly portrays Yun Ying, who is beautiful, brave and armed with a spear.
"One of the reasons young people are spending much more time listening to Chinese music is that we are proud of our culture and want to know more about it," said Zhao, who was born into a family of musicians in Jilin province and learned the pipa at a young age with her mother, who also plays the instrument.
"Traditional Chinese music truly reflects the country's typical characteristics, such as its people, dialects and customs, so it's a great way to learn about ourselves," Zhao added.