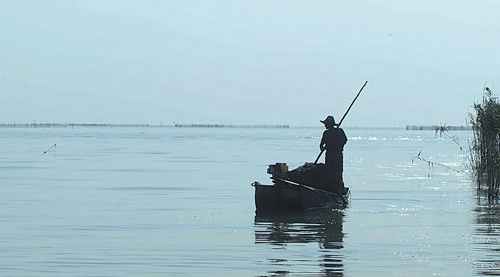 Ancient body of water stands testimony to ingenuity as it nourishes modern-day ambitions and hopes for the future, Wang Ru reports.
When director Liu Liting was filming the documentary Discover Taihu Lake, she was impressed by the Lougang irrigation and drainage system, an incredible 2-millennium-old feat of engineering. She had, of course, read about the system online, but only when she saw it with her own eyes could she appreciate the skill and precision required.
Several hundred man-made rivers are located near Taihu Lake and can feed into it or drain excess water from it. Each one has a sluice linking the lake and the river to adjust water levels. When precipitation increases, the sluice will be opened to discharge extra water to the rivers, and when precipitation decreases, it will be closed.
"The project was completed about 2,000 years ago. But even today, places near Taihu Lake are seldom flooded, partly thanks to the ancient project. It symbolizes the wisdom of our ancestors," says Liu.
The project is recounted in a three-episode documentary produced by Shanghai Media Group, and it aired last month on Dragon TV. It highlights stories of Taihu Lake, especially the lives of people who live alongside it.
As the third-largest freshwater lake in China, it is located at the junction of Jiangsu and Zhejiang provinces, in the southern part of the Yangtze River Delta. It has been the cradle of "Taihu culture", which is known as part of the "Jiangnan culture" (referring to that of the regions south of the lower reaches of the Yangtze River), an important cultural concept in China.
"The production is about the relationship between water and mankind," says Liu, the general director of the documentary.