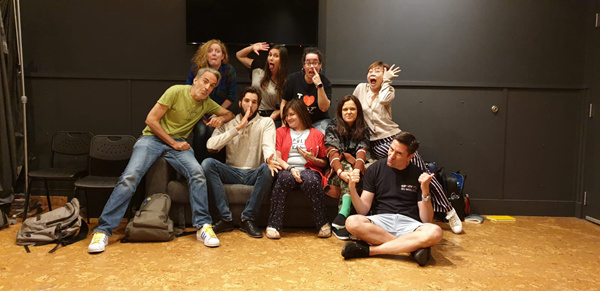 Entrepreneur shows that improv can allow people to trust their instincts and realize their potential, He Qi reports in Shanghai.
Xu Siyuan's story has many twists and turns, but one thing that is constant is her determination to succeed. This determination was aided by a spirit of improvisation that has run through her life and goals.
From majoring in Chinese at East China Normal University to being the public relations officer of a French-funded luxury corporation, and then becoming the young CEO of an internet startup, Xu, of the post-1990 generation, now devotes herself to "improv". This is a technique used by actors onstage, when they say or do things that are not in the script-they improvise. It's "spontaneous ensemble theater "and has developed into an art form where the performers make up the theater, usually comedy, on the spot.
Xu went one step further. She not only practiced the art of improvisation, but became an actor who focused on its application in various fields and also founded Easy Improv.
Xu, a 31-year-old native of Shanghai, lived a routine life before college. Intelligent and a good student, she didn't really explore life until graduation. Then things changed. She chose not to pursue a master's degree, and started devoting herself to public welfare, and it seemed every choice she made at that time was not really improvised.
"I didn't even take the initiative to sign up for the first improv class in 2015," Xu explains. It was, in fact, an improvised activity that her now ex-boyfriend decided to enroll them into without discussion. Xu was very angry, and they broke up before the course was over.
Xu's first improv was painful. She deployed a strategy of delaying her performance which failed when the teacher asked everyone to participate and practice.
"Improv is a form of performance that is not written in advance and the actors will not discuss on stage. It's easy to get scared when people hear about improv and think it's difficult. In fact, it starts with games and the degree of mastery is simple and friendly," Xu states.
After a few classes, Xu experienced games, dramas, and exciting new plays, and the teacher told Xu that she had great talent and potential.
The teacher's words inspired her. Later, after getting married, and preparing to be a full-time housewife, in 2016 she returned to the improv class again and stayed for the whole year.
"During the process, I felt that some 'black holes' in my heart, such as my demand to be seen, and my fear of trying to control others, had all been illuminated, and I also made a group of interesting friends," Xu recalls with relief and satisfaction.
This time, she decided to get fully involved.
Starting easy
The institution where Xu first learned the art form and later enrolled in was Fly Improv, now one of the leading improv theaters and training centers in China, delivering more than 80 performances and hundreds of workshops per year.
Xu spotted an opportunity as she watched her peers resign from their jobs one after another to fulfill their improv dreams.
Jin Jing becoming a viral sensation was a trigger, says Xu. As an actress of Fly Improv, Jin, born in 1992, garnered a great deal of attention after participating in the comedy variety show Golden Night in 2016, due to an excellent improv performance.
"Jin enabled many trainees to see a good way to make improv work as a career. While livestreaming also became more popular in 2017, many trainees resigned from their jobs because they believed that everyone had a shot at becoming a celebrity," Xu says.
Jiang Yu, the first full-time employee of Fly Improv, as well as Xu's teacher, shared similar views during an interview with the Shanghai Observer, a news app run by Jiefang Daily, a newspaper in Shanghai, in 2017.
Jiang said that people who have participated in more than 10 improv classes find it particularly easy to resign from their jobs. About half resigned and changed jobs or opted to travel.
"I think it's because improv has no script. It will teach you to face a completely unknown world. You can pursue freedom and what you really want with courage," Jiang was quoted as saying by the Shanghai Observer.
However, the reality back then was that the improv market was very limited, and there were very few recognized improv specialists.
Xu noticed this, and thought the numbers "didn't seem right". She told her soon-to-be partner that maybe they could help more young people. "We decided that we should try to organize improv teams, so that as teammates they can cooperate and support one another," she says.
So in 2017, Xu, along with her new business partner, withdrew from Fly Improv and registered their company, Easy Improv. The mission of the company is to bring the improv spirit into enterprises as a team-building tool, apply the concept to fields outside the theater, and enable more people to experience it.
Their first job was running a team-building program for IBM's 160-strong Greater China marketing department in Beijing. The second contract was from Sequoia Capital China, according to Xu. So far, Easy Improv has provided training at more than 200 enterprises and for more than 10,000 people.
The biggest benefit of improv is expression, Xu says. It allows the people involved to talk openly about challenges and face them head-on.