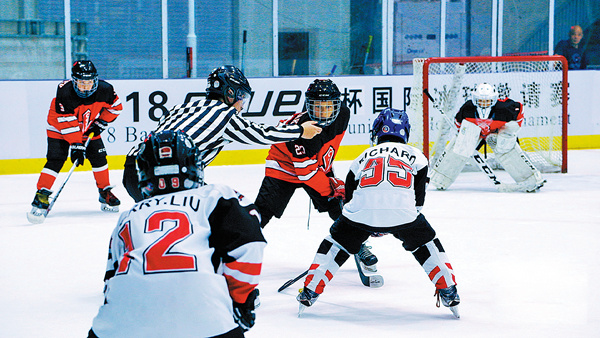 Documentary on young ice hockey enthusiasts and their parents shows growing interest in the sport, Xing Wen reports.
Most of the seats in a theater in Beijing's Haidian district are occupied by young children and their parents who have come to watch the documentary Burning Ice, which follows three ice hockey enthusiasts and their parents over three years.
The 7-year-old skaters in the documentary, wearing helmets, elbow pads and pelvic protectors, zip around the ice rink in an indoor arena, trying to propel the puck into the net with the sticks in their hands. Their parents standing on the sidelines grow tense during the match, shouting instructions: "Pass the puck!" "Defense!" "Move, move, move!"
Meanwhile, audiences in the theater seem to reflect that same wave of tension and expectations with each shot at a goal, every crunching tackle, turn and sweeping attack. It is as if the destiny of the spectators on both sides of the screen is being decided by the direction of the small black, rubber disc skipping across the ice.
The scene at the theater is about 10 days after the documentary's debut on Jan 7 and, to some extent, shows people's growing interest in ice hockey, a niche sport in China, as the country encourages more participation in ice and snow events.