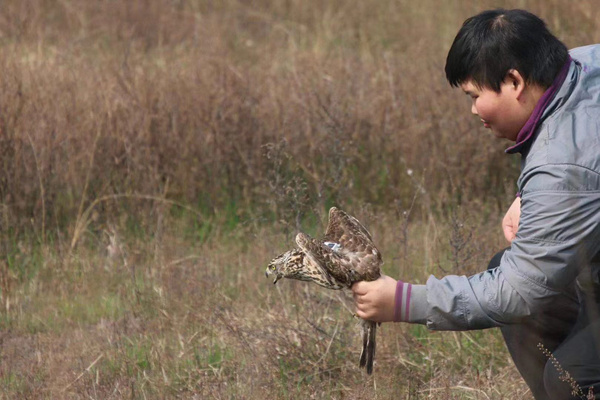 Injured creatures find healing hands of a man determined to protect them, Yang Feiyue reports.
Li Simin has two personas. The 32-year-old from Wuhan, capital of Central China's Hubei province, looks tough and fearless when he drives an excavator for various construction projects.
Yet, Li deploys a more focused and gentle touch when he treats wounded birds, especially raptors.
He has been offering a healing hand to the feathered creatures over the years and is affectionately dubbed "raptor doctor" by his friends, bird protection volunteers and even staff members from the local forestry bureau.
Many of them come to him for tips and advice about treating birds.
Li often gives remote instructions for urgent cases. Years of experience has, after all, enabled him to quickly identify the problems.
"They would send me the picture and I'll have them zero in on the possible part where things might go wrong," he says. "The key is to not startle the bird, because it can lead to stress and even death."
Li has developed a tender spot for animals since middle school.
When he saw that a golden retriever became restless after being chained to an iron fence at his residential community, he walked up and calmed its nerves, even though the dog owner just left it there for a short while.
Li started to grow a passion for birds in 2004 when he found, on his way home from school, one that was trying to free itself from a net set up by local farmers.
Instinct saw him immediately get down and untangle the net wires around the bird.
He didn't know it was a sparrow hawk, a small raptor that hunts rats.
Its sharp talon then scratched open the back of his left hand, leaving a scar to this day.
Blood came out but Li carried on until the hawk was released. He then found blood oozing from its mouth. A closer look revealed it had been cut by the net wire.