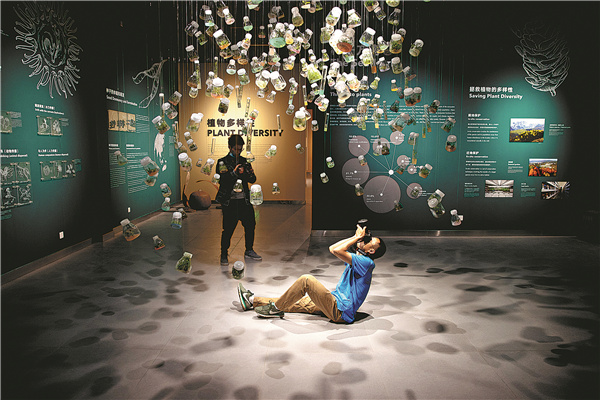 Extreme weather events and natural disasters take their toll in past year.
Threats from climate change and to biodiversity appeared to be overshadowed last year as the COVID-19 pandemic raged around the world, along with regional conflicts and political differences.
Although not every natural disaster or extreme weather event is caused by or related to climate change, more evidence emerged of a strong connection.
In August, the United Nations Intergovernmental Panel on Climate Change published the first part of its sixth assessment report, which stated that evidence of human influence has strengthened in relation to hurricanes and tropical cyclones.
According to the report, the number of intense tropical cyclones, average wind speeds of peak tropical cyclones, and peak wind speeds for the most intense cyclones will rise worldwide due to increased global warming.
Also in August, the deadly and destructive Hurricane Ida swept the United States, the second-most-damaging and intense hurricane on record to make landfall in the state of Louisiana after Hurricane Katrina in 2005. Ida headed north and caused extensive flooding in New York City and the surrounding area.
The National Centers for Environmental Information, or NCEI, said the hurricane caused damage estimated at least $75.25 billion, the costliest disaster in the US and worldwide last year.
According to reinsurance company Munich Re's annual report, economic losses from natural disasters globally last year reached $280 billion, the fourth-highest total after 2011, when a massive earthquake and tsunami struck Japan.
Floods, storms and drought also displaced millions of people across the world, and the report said nearly 10,000 died as a result of natural disasters last year, comparable to such death tolls in recent years. The company warned that studies showed a link between global warming and natural disasters.
Widespread flooding in Europe took the second-highest financial toll after Hurricane Ida last year.
In July, a dozen European countries experienced severe flooding, with deaths and widespread damage reported in some nations. Germany was the most badly hit, with nearly 200 people losing their lives.
Malu Dreyer, governor of Rhineland-Palatinate state in southwest Germany, one of the worst-affected areas, said: "Climate change isn't abstract anymore. We are experiencing it up close and painfully."
In Africa, weeks of heavy rains in South Sudan since July claimed roads, homes and inundated farmland, with more than 850,000 people affected. The flooding in some parts of the country is the worst for 60 years.
Arafat Jamal, the UN High Commissioner for Refugees representative in South Sudan, said: "The country is on the front line of the climate emergency, in which people are the collateral damage of a battle they did not pick."
In May, Cyclone Yaas struck India and Bangladesh, causing damage estimated at $3 billion in just a few days and forcing the evacuation of more than 1.2 million people in low-lying areas, according to the Christian Aid charity organization, which is based in the United Kingdom.
At the end of last year, heavy flooding hit northeast Brazil, killing dozens of people and injuring more than 200. Tens of thousands of residents had to leave their homes.