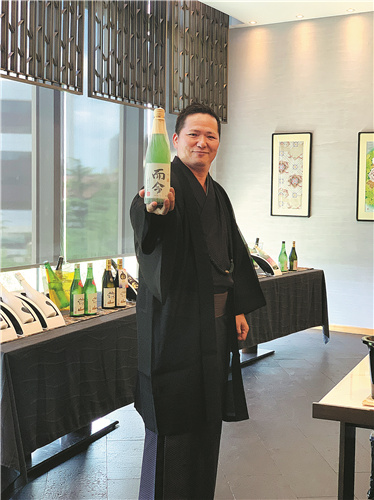 Tanioka Kazuyuki, 48, said running a restaurant is like shooting a film, because he needs to arrange everything, from interior decoration to provision of dishes; from recruiting employees and serving customers to managing finances. He also has to deal with unexpected challenges, such as the COVID-19 pandemic.
The former chef decided to start his own business in Beijing, noting that the Chinese market is huge and has great potential. He wanted to challenge himself by investing in it.
Tanioka married Beijing resident Zhang Yajun 20 years ago. The couple opened their first high-end Japanese restaurant at a drive-in cinema in 2015, with no menu. Customers make appointments to taste whatever the head chef wants to offer. Set meals cost from 600 to 1,200 yuan ($189), covering typical Japanese cuisine such as tuna, sea urchins and beef.
With an investment of 2 million yuan, Tanioka purchased exquisite customized tableware from Japan.
"If you compare food to beauty, tableware is the clothes," Tanioka said. "I want to help customers understand Japanese culture in every small detail."
He said the restaurant aims to serve Chinese people seeking a high-quality of life-a kind of customer that should be plentiful in a city with a vibrant economy. The model was the first of its kind in Beijing and rarely seen even in Michelin-starred restaurants in Japan.
But it proved a big success. "At first our profit was twice or three times higher than running a restaurant in Japan," Tanioka said.
Zhang added that business was so brisk that customers found it hard to place an order.
In 2018, the couple opened a second restaurant. The new one, inside a hotel, offers dishes costing from 200 to 2,000 yuan. The idea is to help more people experience Japanese food.
The restaurant attracts clients by selling more than 30 kinds of Japanese sake as an exclusive agent in the Chinese market, Zhang said, adding that about 90 percent customers are Chinese and 10 percent Japanese.
As with the ups and downs of a movie plot, the road to wealth is not always smooth. In early 2020, when the COVID-19 hit the whole country, the restaurants closed for three months. The impact disproportionately affected Japanese restaurants, Zhang said, because it became very complicated to import seafood. And Chinese people became more cautious about cold fresh food.
As a result, sales dropped 50 percent in 2020 and didn't bounce back. To make matters worse, Tanioka was not been able to return to China after April 2020, when he donated face masks in Japan. So the weight of the business fell entirely on his wife's shoulders.
"Actually Japanese food is not equivalent to all fresh, cold food. We also sell hotpot and hot crab," she said, adding that they turned to takeout during the pandemic. They didn't lay off employees, but several chefs quit.
Tanioka said the Chinese market offers lower costs in taxes and labor. "The market has potential, and I'm looking forward to a better 2022," he said.
As a child, Tanioka learned cooking and helped with the family's catering business. While studying economics in college, he took a part-time job at a Chinese restaurant. After graduation, he worked at a Michelin-starred restaurant for three years to learn Italian cuisine.
At age 33, he was recruited by a Japanese company and helped operate 200 restaurants and hotels. His dream of entrepreneurship was realized when the couple decided to settle in Beijing.
In his travels to many Chinese cities, Tanioka is impressed most with the distinctively different cultures and dialects.
"There are no national boundaries in terms of food. In my second home-China-the journey to challenging myself will continue," he said.