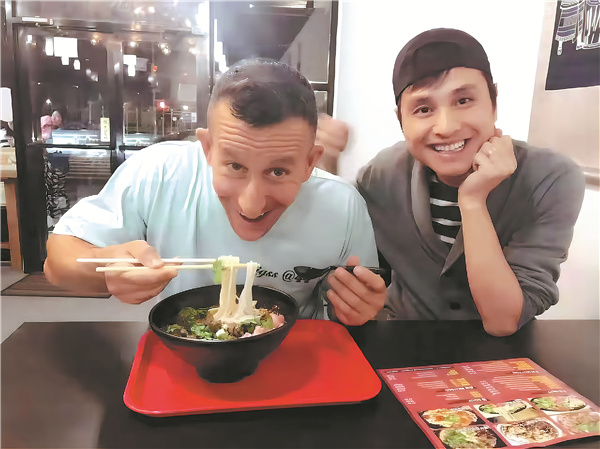 In New York, Chinese entrepreneur finds his calling: beef rice noodles from home.
In the Flushing neighborhood of New York City's Queens borough, Chen Yuzhu opened his first Chinese beef rice noodles restaurant in 2014. He then took the authentic flavor of his childhood memory to three other states in the US, building a recognized brand.
The rice noodles are mixed with stewed beef, beef broth, vegetables and a soup base made with more than 40 kinds of Chinese herbs. It originated in the Huaxi district of Guiyang, Guizhou province.
Chen's 13 restaurants in New York, Texas, North Carolina and California operate 12 hours a day, serving mainly neighboring residents and office workers.
The selection of flavors-from plain, sour and spicy to tomato, soybean milk and matcha-as well as the unique snacks, videos and styles of decoration from ethnic groups, show the culture of Guizhou.
The restaurants have attracted a lot of customers, about 30 percent of whom are not Chinese. Monthly revenue runs between $80,000 and $160,000. Now his stores have become hot spots for vloggers, and he has made himself famous among locals as the "Rice Noodle Prince".
The early days of entrepreneurship were not easy. After graduating from Guizhou Normal University in 2008, Chen joined a Chinese wood export company. He was sent in 2009 to do business in the US. Disappointed with the sluggish market, he quit the job in 2014 and decided to start his own catering business, which he thought had great potential.
Chen, who was 29 at the time, learned from his uncle who runs a rice noodle restaurant in Bijie in Guizhou, their hometown. Then, he went to the US and worked for a restaurant for several months. Finally, he invested in the first establishment, together with two Chinese partners.
As the smallest investor, Chen thought he should do more. He frequently worked 18 hours a day, transported food at 2 am and promoted the restaurant near the New York City subway entrance by yelling, "Special noodles from my hometown Guizhou!"
It didn't work well. During the first two weeks, daily sales were only $200 at most, which wasn't enough to pay the rent.
"At first we strictly obeyed the cooking methods of Guizhou, but customers thought the flavor was too plain. Few people wanted to try. I felt anxious and afraid of failure," he said.
To turn things around, Chen conducted flavor surveys to optimize the taste for the market. After a month, daily revenue surpassed $1,000. But Chen was exhausted from sending out advertising leaflets, cooking and guiding workers. He was hospitalized a week.
However, he said "the process to learn, strive and get inspired was cool".