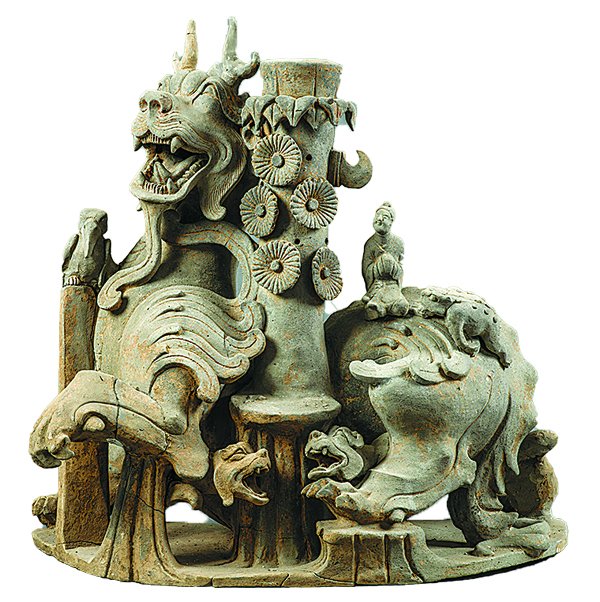 The National Museum and China Three Gorges Corp are jointly presenting an exhibition on the Yangtze, Lin Qi reports.
Navigating through The Mighty Long River, an ongoing exhibition themed on the Yangtze River at the National Museum of China, feels like embarking upon a journey trespassing time and space.
Verses from Lin Jiang Xian, a well-known poem hailing the Yangtze by Yang Shen from the Ming Dynasty (1368-1644), come to mind: "Toward the east the Yangtze River runs; like the rising and swelling currents, heroes emerged and disappeared into the depth of history."
He Xin, the exhibition's chief designer in layout, and her team created a visitor route of smooth curves to connect people with the objects of various kinds on show, narrating a grand tale of the world's third-longest river along which Chinese civilization thrived.
By doing so, they hope to immerse the audience in "an atmosphere of sensibilities and romance", she says.
The Mighty Long River, scheduled to run until March 23, is a collaboration between the museum in Beijing and the China Three Gorges Corp in Hubei province to celebrate the Yangtze's history, natural beauty, cultural diversity throughout centuries and the course of environmental protection, by bringing together over 300 objects primarily from the museum's collection.
"The exhibition encompasses a range of objects and when reaching the end of it, people may feel that they have seen four shows-on artifacts, paintings, technology (models of major projects, such as Three Gorges Dam) and natural history (specimens of rare plants and fish)-all of which present the many dimensions of the story of the Yangtze River," He says.
The exhibition begins with several ink-color scroll paintings made centuries ago, re-creating the perspectives of ancient Chinese who enjoyed the overall views of the Yangtze in the way of woyou, which translates to "traveling while lying down".
Intellectuals living centuries ago invented the term to describe the semi-realistic, semi-imagined approach of classical Chinese paintings to presenting landscapes. The style allowed people an idealized vision to connect with nature while at home.