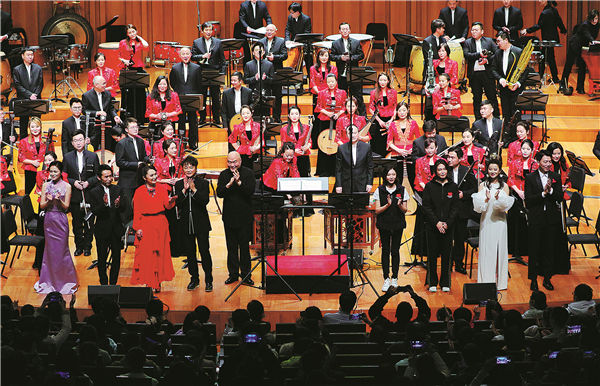 Traditional orchestra highlights inclusive spirit of the Games, Chen Nan reports.
The China National Traditional Orchestra played at the National Center for the Performing Arts in Beijing on Wednesday in a concert celebrating the upcoming Beijing Winter Olympic Games and the Paralympic Games.
Under the baton of Liu Sha, the orchestra, founded in 1960 and known for its traditional folk music, performed pieces embodying the Olympic spirit during the concert, which was themed "Together for a Shared Future".
"The music works we performed during the concert appeal to audiences of all ages," says Liu. "There are classic pieces as well as new pieces dedicated to the Beijing Winter Olympic Games."
One of the most popular works performed in the concert was Snowy Mountains for bamboo flute, suona and the orchestra. Performed by suona player Feng Xiaoquan and bamboo flutist Zeng Gege, the work, composed by Feng, has been an audience favorite since it was premiered two decades ago.
The orchestra also performed classic pieces, including Good News From Beijing Reaches the Frontier, which was composed by Zheng Lu and Ma Hongye and premiered in 1976, as well as Jasmine Flower composed by Liu Wenjin.
Former rhythmic gymnast Zheng Qianyue, who is now a coach, and Zhang Yuhan, a freestyle swimmer, who won gold in the 400-meter freestyle swimming at the 2014 Asian Games in Incheon, South Korea, also participated in the concert by reciting a poem titled Together for a Shared Future, to music performed by the orchestra.