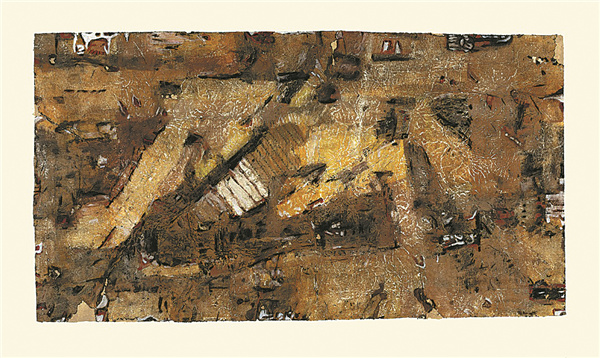 He would add commonly found objects and plants, such as buckwheat husks, straws, newspapers and used boxes to his works. Also, he is inspired by the folk architecture in northern Shaanxi to give a rough texture to his works.
Liu's works chronicle the day-to-day life of farmers and township people, of which the powerful palette and the impulsive, expressive brush strokes remind one of the peasant paintings by Dutch artist Vincent van Gogh.
"I love spending long time with people and observing, which allows me a glimpse of their inner world and mentality," he says.
Niu Hongbao, one of the exhibition's academic directors says one easily senses the link between the motifs and colors in Liu's works and the arts of the northwest and southwest such as the cliff paintings, cave paintings and thangka paintings.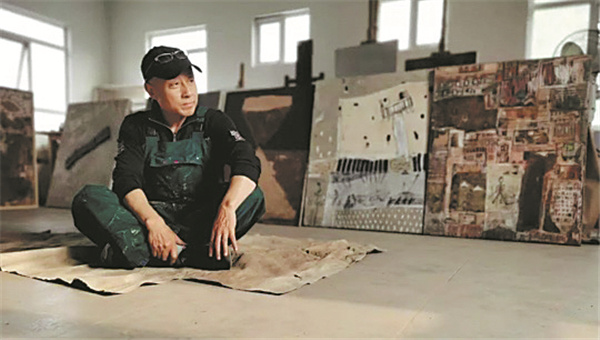 "But far beyond the traditions embodied in these forms of art, Liu dwells on the themes drawn from modern experiences, the relations between the Earth and humanity, ways of existence, divinity and hardships," Niu says.
"His explorations accentuate a harsh quality and meanwhile a genuine attitude and philosophical depth in his depictions of the landscapes and people's daily routines of working, farming and living. He touches upon the truth of life."
Si Lin, a critic says in his works Liu looks to answer the question-what is the world truly about?
And above all, Liu believes love is one of the keys to the answer.
"Love is what art means essentially," he says.