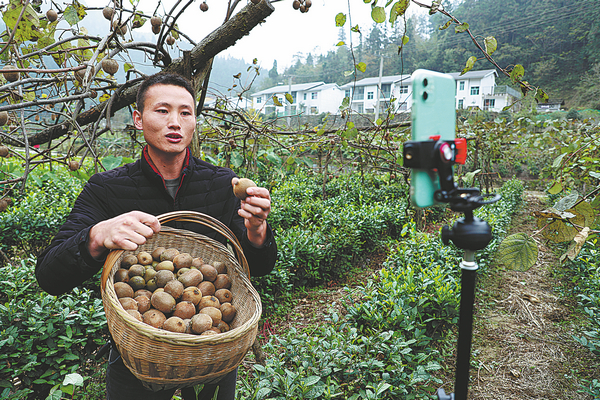 HEFEI-Holding a plate of freshly made dried bean curd, Zhang Zhiju stood in front of a camera, introducing the local delicacy. The 28-year-old farmer now has a second identity as a vlogger.
"I make short videos almost every day to share my daily life in the countryside with online viewers. Likes and comments often pour in after I post the videos, allowing me to sell agricultural produce to buyers far away," says Zhang, who lives in the county of Shucheng in East China's Anhui province.
Zhang says she can sell up to 5,000 yuan ($785.2) worth of local delicacies each day thanks to the videos.
Products associated with idyllic countryside life are increasingly popular on social media platforms as stressed-out urbanites go in search of a countryside retreat.
As the short video trend sweeps China, more ordinary people like Zhang are becoming enthusiastic about sharing their lives through the medium.
According to a report released by Shenzhen-based research firm AskCI Consulting, China had about 880 million online short video users as of June 2021, and the number is expected to grow. Another report published by CSM Media Research said that nearly 42.8 percent of short video users have started uploading their own video clips.
Apart from the pleasure of sharing, Zhang, who has been running a cooperative since 2018, began to make short videos to publicize local agricultural produce such as organic vegetables and lamb meat.
"In less than a minute, videos can vividly present the production process of our goods," Zhang says, adding that they currently have over 20,000 followers.
Last year, the sales of Zhang's cooperative reached 1 million yuan.
Besides young people like Zhang, many seniors are also finding a sense of belonging while sharing their stories.
According to a joint report issued last year on seniors using short video apps, more than 600 million videos on Douyin, the Chinese version of TikTok, were created by people over 60.
Niu Xia, 57, is an active content creator who focuses on Chinese food. She filmed a series of short videos, cooking traditional and nostalgic dishes with her daughter-in-law, which has attracted nearly 1.3 million followers in less than six months.
"I make videos simply to record my life and recall my childhood memories. We feel happy and are surprised to have so many followers," says Niu.
According to Niu, for the elderly in rural areas, short videos help them see the world outside, and the likes and comments from viewers bring them a sense of warmth and belonging.
"While recording and sharing my stories, I also hope to showcase the thriving lifestyle in, and development of, the countryside," Niu says.
Xinhua