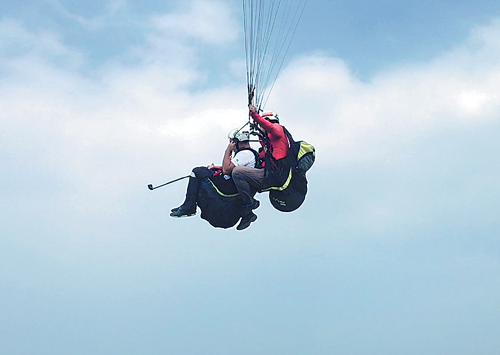 An initiative is aiming to help people experience the thrill of adaptive sports, Xu Lin reports.
Joshua Dominick, 43, is helping a young man get accustomed to the swimming pool, by gently holding him. Since 2015, Dominick has been teaching wheelchair users to swim.
The activity is part of a campaign called "Krankin' thru China", launched by him and Domonic Corradin, an adaptive athlete from the United States, in 2013. It aims to help physically challenged people engage in adaptive sports to help them reintegrate into society.
"Adaptive sports are dependent on the ability of each individual, and we adjust according to that," says Dominick, also from the US, who speaks fluent Chinese and works as a translator in Beijing.
"Wheelchair users have to adapt to their own physical situation to find the best way for them to swim," he says.
"We want them to come regularly and improve and get healthier."
He says the swimming events have been successful, opening a whole new world for the members. Many wheelchair users don't get such opportunities to do so in China, and he attributes that to a few reasons. Some venues have barriers. Wheelchair users need someone who understands what assistance they need.
"Exercise is greatly beneficial to wheelchair users' health. Also, it produces dopamine, which makes people feel joy. It also helps them to interact with a wider group of people and make more friends," he says.
"Krankin' thru China" originally focused on handcycling and swimming, and now has more adaptive sports, ranging from rock-climbing to horseback riding.
Designed for wheelchair users, handcycles are relatively popular among physically challenged communities in Europe and the US.
"A handcycle is just like a bicycle, with all the same things, and it's for exercise and going longer distances," Dominick says.
Dominick and Corradin made their first exploratory trip in 2013, from Beijing to Shandong, Hunan and Guizhou provinces, and Shanghai, to interact with local wheelchair users. At that time, only Corradin had a handcycle.
The duo and three Chinese wheelchair users, including Wang Feng, a core member of their campaign, made a trip of 750 kilometers in 2016 from Dali to Xishuangbanna in Yunnan province.
In 2017, Dominick, Corradin and Wang started an ambitious 5,800 km route with handcycles from Xishuangbanna to Beijing. They spoke to college students, NGOs and social groups about handcycles, and visited wheelchair users who were in need of help.
"Among those who have spinal cord injuries, only a few go out, and it's a small circle, so we're familiar with one another," says Pan Yifei, 35, a core member of "Krankin' thru China", who joined part of the journey in 2017.
He likes adaptive sports and plays WCMX, a sport in which wheelchair users perform activities adapted from skateboarding and BMX(bicycle motocross).
He says wheelchair users should not have the "mental burden" that they are "getting others into trouble" when they go out. It's their legal right to move around and they can ask for help if needed.