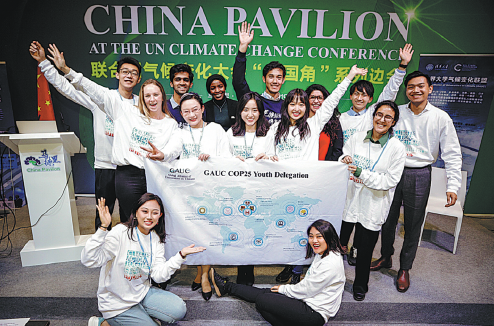 New generation rises to the challenge as it seeks to combat global warming, Yang Feiyue reports.
Young people are taking the lead in addressing environmental and biodiversity challenges. Twenty-year-old Cheng Haosheng from Macao-currently studying at Tsinghua University's School of Environment in Beijing-is one of them. He easily recalls his experience late last year at the Global Youth Summit on Net-Zero Future held by the Global Alliance of Universities on Climate.
The alliance was initiated by Tsinghua University and is now composed of 15 universities worldwide, including Oxford in the United Kingdom, Yale in the United States and the Federal University of Rio de Janeiro in Brazil.
The summit featured more than 30 student-led events, such as a climate-research competition, a Voice Track where students delivered their multimedia messages about climate change and a hackathon to energize youngsters to come up with innovative solutions. It is aimed at being a springboard for the world's youth to take a more active role in mobilizing leadership and demonstrating the collective strengths of higher education institutions in facing pressing environmental issues, according to the alliance.
"I recorded a video for the Voice Track, sharing what I witnessed during Typhoon Hato, my thoughts on climate change and the awareness campaigns and community work I have done in Macao," Cheng says.
Cheng helped draft a youth declaration with students from around the globe during the summit. The declaration calls upon governments to take notice of the effects of the climate crisis.
Cheng also played a positive role in writing media releases about each event during the summit and publishing them online.
"I realized once again the importance of regional and global cooperation for combating climate change. Many scholars, students, young people and citizens from around the globe are already working on the issue," Cheng says.
In November, the 2021 United Nations Climate Change Conference (also known as COP26) displayed his video to its audience of global climate leaders.
Cheng developed a sense of crisis when he was a teenager.
"I learned we have been burning a lot of fossil fuels that could not be regenerated, and that if we do not start implementing energy reform, we will face a resource-scarcity crisis," he says.
"No power and no light, and that was beyond comprehension for me, since I relied on electricity and electronic devices every day."
He has since taken the lead in hosting various environmental protection activities throughout middle school.
He shot a film publicizing the benefits of not using disposable water bottles and negotiated with grocery stores about encouraging students to prepare their own utensils with credit points.