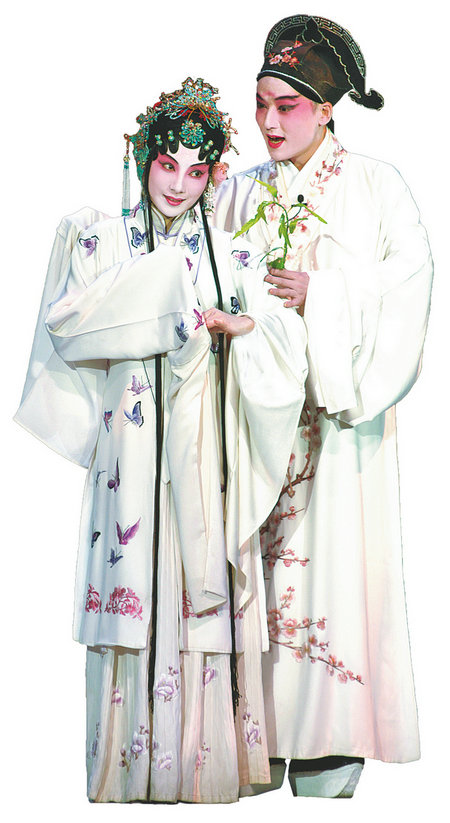 The Peony Pavilion, a Kunqu Opera production, remains a romantic favorite for a new generation, Chen Nan reports.
In 2003, the Suzhou Kunqu Opera Theater of Jiangsu worked with Chinese-American writer Kenneth Hsienyung Pai to produce the "youth version" of a Kunqu Opera production, The Peony Pavilion. After its premiere in Taiwan in 2004, his version of The Peony Pavilion has clocked in about 400 performances across the Chinese mainland, Hong Kong and Macao, as well as in countries such as Greece, Singapore, the United Kingdom and the United States. It has been performed in front of a combined worldwide audience of about 800,000.
With a new cast, stage set, costumes and music, the production has become so popular that Pai's name has become synonymous with The Peony Pavilion. Thanks to the shows staged at universities across the country at that time, Kunqu Opera has witnessed a surge of popularity, especially among younger people.
Yu Jiulin and Shen Fengying, who play hero Liu Mengmei and heroine Du Liniang, respectively, were unknown performers then, but have since both established a large and devoted fan base among Kunqu Opera lovers.
On Saturday, Yu and Shen will perform the "youth version" of The Peony Pavilion-at Tianqiao Performing Arts Center in Beijing, as part of the ongoing 22nd Meet in Beijing International Arts Festival. This time, they'll perform a two-hour-long version of the opera.