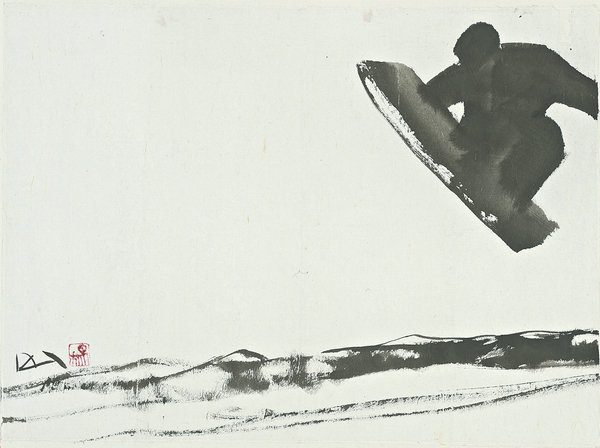 Selection of sports-themed paintings by Yang Gang captures the majesty of the moment, Lin Qi reports.
Before artist Yang Gang passed away at the age of 73 in 2019, he had been looking forward to the Winter Olympics which will be held in his home city.
Since 2000, Yang had drawn athletes when he watched live broadcasts or rebroadcasts of the Winter Games on television. He left a body of work consisting of more than 400 drawings, which celebrates the dynamics and perseverance of those striving to compete in the Olympics.
Yang once said: "I love the Winter Olympics. It is like an international Naadam (a festival of traditional games of the Mongolian ethnic group) on ice and snow that promotes world peace and the well-being of humankind."
Yang lived in the Inner Mongolia autonomous region in the 1960s and '70s, and traveled to the heart of extensive grasslands there. He invested time in capturing on paper the vigorous, instant movements of animals, such as horses, and people participating in sports, such as horse-racing and wrestling.
A selection of works on winter sports created by Yang between 2000 and 2018 is on show at the Beijing Fine Art Academy, where Yang used to work as a resident painter.
The exhibition, Constantly Emerge and Grow, at the academy's art museum, ends on Thursday and will be held at the Shenzhen Art Museum from Jan 20 to Feb 15.