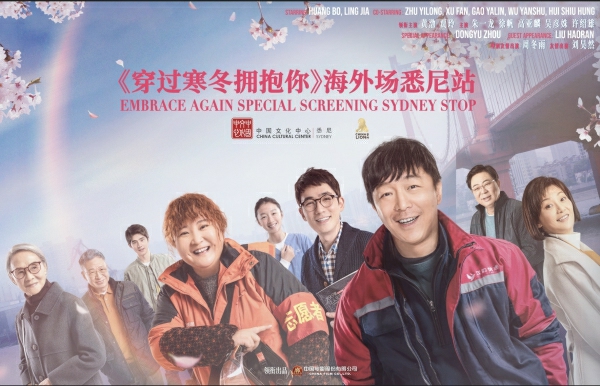 On Jan 8, China Cultural Centre in Sydney and China Lion Film Distribution hosted a film screening event for the centre's members and art lovers at the Event Cinema in Sydney.
The film Embrace Again focuses on the ordinary people's lives during the lock down of Wuhan on Jan 23, 2020. With characters based on real people, the film depicts love among those from all walks of life in a warm tone, and conveys Chinese people's optimistic attitude to life.
The event aims to bring warmth to the people in Sydney under the shadow of the epidemic. It has won enthusiastic response from the audience.
Directed by Xue Xiaolu and starring Huang Bo and Jia Ling, Embrace Again has been on screen for two weeks since its release on Jan 6 in mainstream theatres in Australia's main cities.
China Cultural Centre in Sydney will continuously cooperate with China Lion Film Distribution to promote Chinese films in Australia to enhance mutual understanding and friendship between the Chinese and Australian people.